Good record keeping is an important aspect of a health and social care professional's role, and it is a fundamental part of nursing (NMC 2010).
An accurate written record detailing all aspects of patient monitoring is important, not only because it forms an integral part of the of the provision of care or nursing management of the patient, but because it also contributes to the circulation of information amongst the different teams involved in the patient's treatment or care.
In a legal sense, documentation and record keeping is also there for the protection of the nurse or healthcare professional.
A well-kept record can protect the practitioner in instances where the legal defence of their actions is required. Documentation also ensures a matter of professionalisation and proof of the improvement of practices.
Types of Record-Keeping Used in Healthcare
Hand-written records
Computer-based systems (electronic)
Some organisations or employers will use a combination of both.
You'll be expected to be able to comply with whatever requirements your employer or organisation sets for record-keeping. That means you'll need to:
Ensure that you are up to date on the information systems and tools in your workplace including their security, confidentiality and appropriate usage;
Protect any passwords or details given to you to enable your access to any systems;
Make sure written records are not left in public places where unauthorised people might see them (including any electronic systems or displays);
Ensure that an entry is made in the patient's medical record whenever a health professional sees a patient.
Components of a patient's records include:
Medical records
Nursing records/progress notes
Medication charts
Laboratory orders and reports
Vital signs observation charts
Handover sheets and admission
Discharge and transfer checklists/ letters
Patient's assessment forms, such as nutrition or pressure area care assessment.
(Dimond 1994)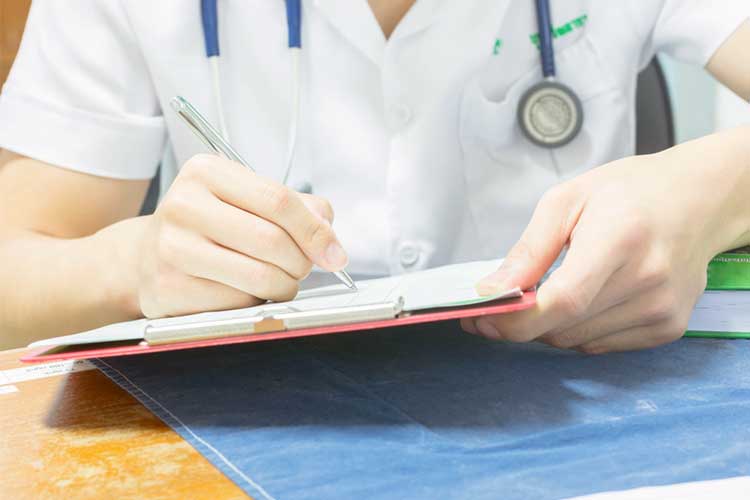 Principles of Good Record Keeping
Some key factors underpin good record keeping. The patient's records should:
Be factual, consistent and accurate;
Be updated as soon as possible after any recordable event;
Provide current information on the care and condition of the patient;
Be documented clearly in such a way that the text cannot be erased;
Be consecutive and accurately dated, timed and all entries signed (including any alterations);
All original entries should be legible. Draw a clear line through any changes and sign and date;
Not include abbreviations, slang or jargon as not all workplaces or organisations will use the same terminology;
Records must be stored securely and should only be destroyed following your local policy;
Avoid meaningless phrases, speculation and offensive subjective statements/insulting or derogatory language;
Identify the patient by recording patient's name, date of birth and hospital number on each page of the record (three approved identifiers) or follow your local policies on how to identify patient's records;
Still be legible if photocopied or scanned.
(Jevon 2012; RCN 2017)
Common Deficiencies in Record Keeping.
Poor record keeping hampers the care that patients receive and makes it difficult for healthcare professionals to defend their practice.
The most common deficiencies in record keeping include:
An absence of clarity
Inaccuracies
Spelling mistakes
Missing information
Failure to record action taken when a problem has been identified.
(Dimond 2005)
Benefits of Good Record Keeping
Record keeping is a tool for professional practice and one that should help the care process. It is not separate and not an optional extra to be fitted in if circumstances allow.
A record should be made as soon as possible after the patient is seen or the procedure is complete. It's important that accurate record is made in the patient's notes and should include interventions and any response to the interventions.
The importance of good record keeping are:
Record keeping makes the continuity of care easier;
Record keeping promotes better communication and dissemination of information between members of the multi-professional team;
Helps to address complaints or legal processes;
Supports clinical audit, research, allocation of resources and performance planning;
Helps to identify risks and enables the early detection of complications;
Supports patient care and patient-centred communication;
Supports effective clinical judgement;
Supports delivery of services;
Helps improve accountability;
Shows how decisions were made relating to the patient's care.
(Jevon 2012)
Legal Issues in Record Keeping
The patient's records are occasionally required as evidence before a court of law, or to investigate a complaint at a local, organisation level.
Sometimes records may be requested by professional governing bodies when investigating claims related to misconduct (NMC 2010).
Therefore, you must take care about what you write. Not only will you be asked to formally explain your records in the event of, for instance, a complaint from a patient/client, but registered nurses have both a professional and legal duty of care.
It is therefore critical to keep up-to-date with the legal requirements and best practices of record-keeping, proving that:
A comprehensive nursing assessment of the patient has been undertaken including care that has been provided and planned;
Relevant information is included together with any actions that have been taken in response to changes in patients' conditions;
The duty of care to the patient has been provided and that no acts or omissions have compromised a patient's safety;
Arrangements have been made for the ongoing care of the patient.
(Jevon 2012)
Delegation and Countersigning
A registered nurse is accountable for any delegation of record keeping to members of the multi-professional team who are not registered practitioners, such as assistant practitioners (AP), care assistants and nursing students (Jevon 2012).
As with any delegated activity, registered nurses should:
Provide supervision until the team member is competent at undertaking the activity alone, and then that it is in the patient's best interests to have record keeping duties delegated;
Only countersign if they have witnessed the activity or can validate that it took place;
Always follow local policies around record keeping, delegation and countersigning.
Conclusion
When caring for a patient, it is important to ensure good record keeping to promote patient care and better communication. Good record keeping is a product of good teamwork and an important tool in developing high-quality healthcare and reinforcing professionalism within nursing.
References
Dimond, B 1994, The Legal Aspects of Midwifery, Books for Midwives Press, Cheshire.
Dimond, B 2005, 'Exploring common deficiencies that occur in record keeping', British Journal of Nursing, vol. 14, pp. 568-70, viewed 28 May 2018, https://www.ncbi.nlm.nih.gov/pubmed/15928574
Jevon, P & Ewens, B 2012, Monitoring the Critically Ill Patient, 3rd Edn, Wiley-Blackwell, Oxford.
Nursing and Midwifery Council 2010, Record Keeping: Guidance for nurses and midwives, NMC, London, viewed 28 May 2018, http://www.nipec.n-i.nhs.uk/Image/SitePDFS/nmcGuidanceRecordKeepingGuidanceforNursesandMidwives.pdf
Royal College of Nursing 2017, Record Keeping: The Facts, RCN, viewed 28 May 2018, https://www.rcn.org.uk/professional-development/publications/pub-006051
Test Your Knowledge
(Subscribers Only)
Question 1 of 3
How many identifiers should be used on each page of a patient's record?
Start an Ausmed Subscription to unlock this feature!