With the ageing Australian population, the need for in-home care may increase.
What are Home Care Packages?
Home Care Packages aim to assist older Australians to live in their own homes as independently as they can, for as long as able (My Aged Care 2017a).
Of course, this is as per the client's preferences and if they so choose to, as opposed to living in a residential care facility.
There are four levels of support through the Package Program, with Level 1 being basic care, and Level 4 being the high-level care needs (My Aged Care 2017a).
Each care level is linked to a different subsidy amount paid to the care provider that the client has chosen to deliver their care. The client may need to pay an amount on top of the government subsidy (My Aged Care 2017a).
What are Home Care Packages Used For?
Continence management
Personal care
Nutritional needs (e.g. meal preparation, hydration and diet)
Mobility
Dexterity
Nursing
Allied health and other services
Transport
Skin integrity management
Possible support with telehealth, assistive devices, equipment, aids, etc.
(My Aged Care 2017a)
Home Care package funds are not used for general costs of living, however, as My Aged Care state:
'Home care package funds cannot be used as a general source of income for items such as day-to-day bills, food, mortgage payments or rent as an example. You can find a full list of exclusions on www.myagedcare.gov.au'
(2017b)
What are the Levels of Home Care Packages?
The four levels of packages are:
Home Care Level 1 – Basic Care Needs
Home Care Level 2 – Low-Level Care Needs
Home Care Level 3 – Intermediate Care Needs
Home Care Level 4 – High Care Needs
(Department of Health 2017)
Pathways for Home Care Assessment and Referral
The following flowchart by NSW Health (CC 2017, ) explains the My Aged Care Assessment and Service Referral Pathway: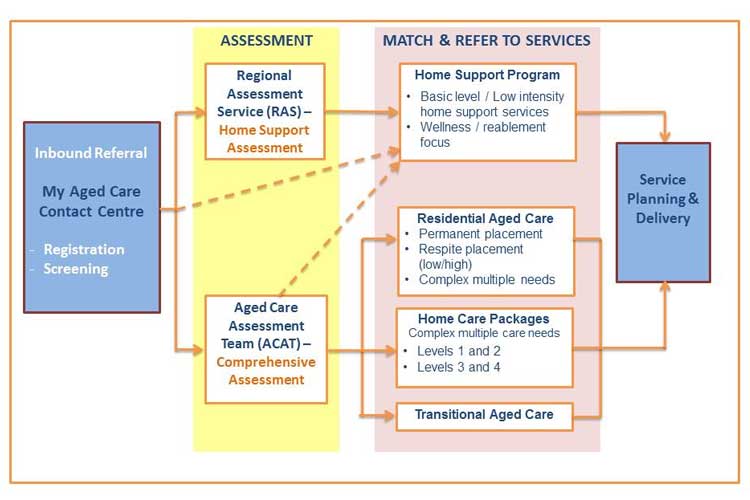 NSW Health (2017) explains that changes were made to aged care to improve consumer choices and meet the growing demands of the health sector.
It is acknowledged that whilst in 2006, 14% of the population was aged over 65 years old, but now it is expected that up to 20% of the population will be aged over 65 by 2030 (NSW Health 2017).
Whilst people are living longer, chronic illness is also on the rise (NSW Health 2017). This exemplifies the need for new, innovative approaches to meet the growing and changing needs of the population; whilst, simultaneously providing person-centred, individualised care.
The My Aged Care portal has been established as a 'central point of access for aged care services and information in Australia' (NSW Health 2017).
The idea of My Aged Care is that there will be a client record that can more easily flow between, or be accessed by, clients, healthcare providers and organisations (NSW Health 2017). The objective is that only one referral to My Aged Care will be needed in order to provide clients with access to various services (NSW Health 2017).
Entering a Home Care Package Agreement
My Aged Care provide access to a checklist to help clients that plan to enter a Home Care Package Agreement here.
The My Aged Care checklist makes the following considerations:
The agreement needs to state what services will be provided to the client, in which way, and who will deliver the services
The agreement should also state how much these services will cost
This means that should costs change over time, the agreement needs to be updated
The agreement should outline the care plan – which services will be provided to meet which goals and client preferences
The agreement should also outline the budget – funds available and how they are planned to be utilised
The budget is comprised of the government subsidy, relevant supplements, basic daily fee (as negotiated between client and provider), additional costs (e.g. exit fees), and income-tested fee
Administrative costs can differ between providers and can be labelled differently too (e.g. case management or advisory fees etc.)
Thereby, clarify all costs and inclusions in the budget
Changing providers may lead to an exit cost
Therefore, clarify whether there is an exit fee, what amount this is, when it must be paid, etc. This amount is required to be stated in the agreement
Clients must receive monthly statements
These monthly statements indicate how the budget has been spent and what funds are left unspent
'Any unspent home care amount will carry over from month to month, and from year to year, for as long as you continue to receive care under the package.'
Interpreters can be accessed to assist clients
Read over the agreement very carefully and thoroughly, and seek support from others as preferred (e.g. families, advocates, legal professionals, friends etc.)
The care is individualised, and thereby the client can of course request changes to their care plan at any point in time. These requests need to go to the provider so that the client and provider can work in a partnership to work out a mutually agreeable plan. This means that both parties must consent to the changes made and update the agreement.
(My Aged Care 2017b)
Can Clients Access any Other Subsidies or Supplements?
Department of Health (2016) lists the following Home Care Supplements:
The Dementia and Cognition Supplement in Home Care
The Veteran's Supplement in Home Care
Oxygen Supplement
Enteral Feeding Supplement
Viability Supplement
Top-Up Supplement
Hardship Supplement
Contact My Aged Care and the Department of Health for further information:
Providers should call 1800 836 799 for assistance
Clients should go to My Aged Care website or call 1800 200 422 for help
References
Author
Madeline Gilkes, CDE, RN, is a Fellow of the Australasian Society of Lifestyle Medicine. She focused her Master of Healthcare Leadership research project on health coaching for long-term weight loss in obese adults. Madeline has found a passion for preventative nursing. She has transitioned from leadership roles (CNS Gerontology & Education, Clinical Facilitator) in the acute/hospital setting to education management and primary healthcare. Madeline's vision is to implement lifestyle medicine to prevent and treat chronic conditions. Her research proposal for her PhD involves Lifestyle Medicine for Type 2 Diabetes Mellitus. Madeline is a Credentialled Diabetes Educator (CDE) and primarily works in the academic role of Head of Nursing. Madeline's philosophy focuses on using humanistic management, adult learning theories/evidence and self-efficacy theories and interventions to promote positive learning environments. In addition to her Master of Healthcare Leadership, Madeline has a Graduate Certificate in Diabetes Education & Management, Graduate Certificate in Adult & Vocational Education, Graduate Certificate of Aged Care Nursing, and a Bachelor of Nursing. She is working towards her PhD. See Educator Profile