With new graduate nurses starting in hospitals around Australia over the next few weeks, it's a good time to think about how we give feedback that is both professionally delivered, and effectively received.
Feedback helps motivate the person to perform well and also clarifies any deviations between the preferred and the actual behaviour of the individual by giving the person information on their performance. Not only is it essential for professional growth, it provides direction and increases the confidence, motivation and self esteem of the individual (Matua et al. 2014; Rose & Best 2005).
New graduate nurses not only need constructive feedback, they also need positive feedback to know when and what they are doing well. By understanding how they are progressing they can then determine what new responsibilities they can take on and what further learning comes next. Quality feedback helps the individual to realistically rate their clinical practice and help minimise any poor practices (Chang & Daly 2012; Matua et al. 2014).
But, giving feedback can be difficult. You might be worried that they will take it the wrong way – they could become upset or even deny the behaviour occurred. So, with the possibility of one of those scenarios happening, often constructive feedback may not occur or – if it does – could be rushed and ineffective.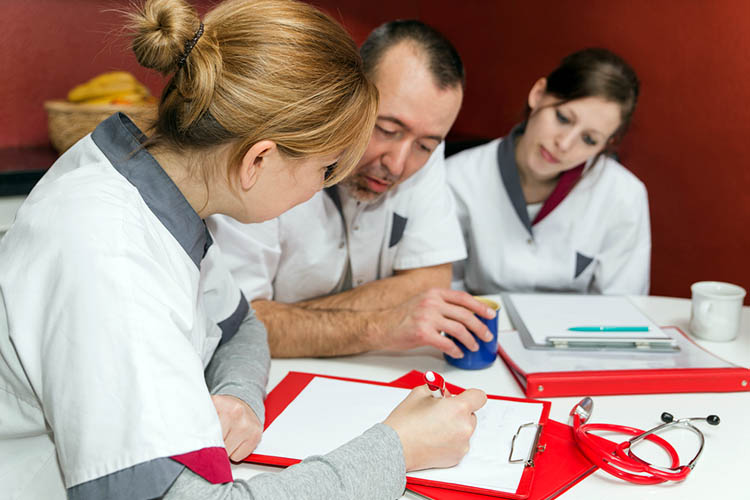 The incidence of feedback can be encouraged by the recipient nurse receiving it in a professional manner. This can then encourage and create a work environment where everyone gives and receives feedback. Nurses do need to take responsibility for their own behaviours and must be proactive in both seeking and offering feedback rather than feedback only being given in reaction to an event or performance (Chang & Daly 2012).
It should also be mentioned that within current nursing culture, positive feedback is often hard to find (Sodeify et al. 2013).
So with feedback only being given that focuses on areas of improvement without mentioning any areas where the learner is excelling, the learner can feel demotivated and devalued – especially in the case of new graduate nurses, questioning why they are in this profession (Duffy 2013).
Giving Feedback
There are many sources of feedback for graduate nurses. Sometimes it is being aware of these sources and knowing how to interpret specific situations as positive feedback.
For instance, there could be a patient who had a smooth transition home because the graduate nurse planned it well and kept the patient informed.
Colleagues of the graduate nurse can also be a source of feedback on how they are settling into the team and on their performance, however this information should be confirmed before constructive feedback is given to the graduate.
The use of several different sources of information will also add credibility to the feedback that is being given whether it is positive or negative (Chang & Daly 2012; Rose & Best 2005).
Graduate nurses should also be encouraged to reflect on their practices and behaviours to determine their strengths and weaknesses. This will help identify areas in which they need continuing education. It will give them insight into their practice and allow them to reach their full potential as a nurse (Chang & Daly 2012).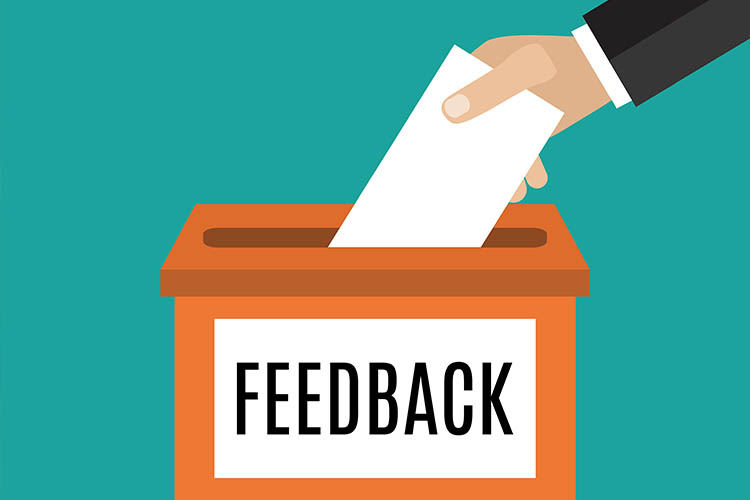 Feedback Models
There are many different feedback models. This is fantastic, as what might work for one person doesn't necessarily work for the next. Everyone is different and, different situations call for different types of feedback.
1. The Feedback Sandwich
This feedback tool consists of three components:
Begin with the positive feedback
Then introduce the constructive or negative feedback
Close with specific that which builds up the learner's trust and comfort
The Feedback Sandwich minimises any detrimental effect the negative feedback may have on the individual and ensures that the learner is not discouraged and remains motivated to learn (Matua et al 2014).
2. 'Situation – Behaviour – Impact' Feedback Tool
This tool allows the learner to reflect more on their actions whilst understanding precisely what you are commenting on and why, as well as think about what they need to change.
Begin with defining the situation the feedback refers to
Follow this by the specific behaviours you want to address
The last step is describing how their behaviours affected you or others
From this, the learner then has the chance to reflect on the situation and their behaviour and discuss with you strategies for improvement (Mind 0Tools 2017).
3. Pendleton's Model of Feedback
Pendleton's model of feedback helps make the learning experience constructive by:
Highlighting positive behaviours first
Reinforcing these behaviours and including a discussion of skills to achieve them
Followed by what they could have been done differently
Areas of improvement are first identified by the learner and then followed by discussion with the person giving the feedback about strategies to improve their performance (Chowdhury & Kalu 2004).
Characteristics of Effective Feedback
Although different feedback models can be used when giving feedback, effective feedback must display certain characteristics:
Specific: It should contain specific information rather then generalisations
Accurate: It should be factual and clear
Objective: Feedback should be unbiased and unprejudiced
Timely: It should be given as soon as possible after completion of a task (however, at times it might not be possible and may be delayed to a more appropriate time and place)
Usable: Relate the feedback to goals and strategies so the individual can improve performance
Desired by the receiver: Feedback can still be effective even in those who don't actively seek it, however those who are seeking feedback will often be more motivated to improve performance
Checked for understanding: Clarify understanding with the individual to ensure they are getting the most out of their feedback
(Matua et al 2014; Rose & Best 2005)
Effective feedback that is clear and focused and given regularly, even when it is negative in nature, often will still allow the individual to be comfortable with the person giving the feedback providing it displays these characteristics. The feedback should also mention specific strategies the individual can use to improve their learning and performance and should provide not only information on their performance but also a guide for their next steps (Matua et al 2014).
Timely and effective constructive feedback is especially essential in the case of a graduate or student nurse who is underperforming. It gives the learner a chance to rectify the situation which could potentially leave them failing if they are a student or causing harm and potential dismissal if they are a new nurse graduate (Duffy 2013).
Feedback can be difficult to hear at times but when receiving constructive feedback it is important to remember that the feedback is intended to assist you in your professional development. And with nursing culture generally being one where positive feedback tends to be neglected, let's all give each other some positivity – especially our new nurse graduates – when they start on the wards.
6 Tips for Nurse Educators
Effective feedback
is a very important process that occurs in nursing practice. When delivered effectively, feedback can:
Improve performance;
Aid in learning;
Help individuals understand their strengths and deficits;
Allows learners to implement strategies to strengthen and improve their practice; and
Ultimately improve patient care and outcomes.
Given the potential positives, it is important that giving feedback becomes a priority in nursing practice and that the feedback given is effective in
driving practice change and improving performance
(Chang & Daly 2015; Delany & Malloy 2018). However, effective feedback in the healthcare setting remains a challenge for many people - as educators, we can all remember a time when we have given detailed, timely feedback to a learner only to find that they never act on the feedback that you have given. Here are some strategies and behaviours that educators should be aware of when providing feedback to their learners. These will enable educators to provide more effective feedback and increase the chance of learners implementing that feedback and improving their practice.
Learners and Their Feedback Conversation
Learners need to have an active role in their own
feedback conversation
. If a learner doesn't implement feedback provided by an educator, the educator should consider:
How was the feedback delivered?
Was the learner able to contribute their perspective?
Were they able to have a hand in devising goals that will enable them to enact the feedback and improve their performance?
Enabling the learner to have an active role in their feedback conversation, can often encourage and motivate them more to change their practice as they will be invested in the process. When the learner is given time to contribute it is also important that the educator
actively listening
, for example using open ended questions, summation and clarification as well as having open body language and focused attention. This will further engage the learner in their feedback conversation (Chang & Daly 2015; Cox 2016; Delany & Malloy 2018).
The Learner-Educator Relationship
The relationship between the learner and teacher can also impact on what the learner takes on from the feedback given. The learner must see that the individual giving feedback has their best interests at heart and often this occurs when the relationship between the two is one that is established and trusted by both parties. In nursing however, this can be difficult due to short placement rotations and shift work. As a result the learner may not necessarily be building relationships with the same individuals and it can also mean that there are less opportunities for the direct observation of the learner by the educator who will be providing feedback (Delany & Malloy 2018; Hardavella et al 2017).
Negative Feedback
When receiving negative feedback, there can also be a tendency for some learners to become defensive. This isn't surprising when we think about the emotional situation that can arise when feedback challenges what the learner may believe and think. When feedback challenges the learner's views about themselves, it can create a sense of discomfort, which can then cause them to become defensive, and not only challenge the feedback provided, but also the credibility of the individual providing the feedback. In this situation, the relationship between the two individuals is pivotal in ensuring the feedback is understood and the emotional state of the learner is protected (Delany & Malloy 2018). It should be noted that negative feedback can also be perceived as
criticism
even though the feedback may have been given with the intention of assisting the learner to improve. This can trigger feelings of shame and guilt.
Past Feedback
It is important to remember that learners also bring their prior experiences with feedback situations to their current feedback conversation. This can impact on how they respond to the feedback depending on the circumstance, their knowledge levels and their prior experience. For example, if the learner has had an experience receiving feedback that left them feeling demoralised, then this can have an effect on their emotional state when receiving feedback in the future. Therefore, it is important to
establish any previous negative experiences with receiving feedback
as well as
how the learner prefers to receive feedback
(Delany & Malloy 2018).
The Feedback Environment
As an educator, it is important to build a safe feedback environment within which learners feel comfortable and supported. It needs to be an environment where feelings can be discussed, especially those feelings when mistakes are made and there are feelings of shame or guilt (Cox 2016; Van Der Leeuw 2014). Within this environment feedback can then established as a
valuable learning opportunity
and a way to improve practice. In nursing, there are many situations where feedback is seen as a requirement rather than a learning opportunity. When this happens, the feedback may carry less value because it will lack the depth needed to ensure engagement with the learner. This can be seen in some of the feedback models used in student placement. Feedback requirements can cause disengagement with the learner and can also make the learner reluctant to discuss their own deficits in performance as they want to get good assessment feedback. When assessment is the focus of the learner, as opposed to improved practice and patient care, there is a danger that they will miss out on potential feedback conversations (Delany & Malloy 2018).
Positive Reinforcement
An important aspect of feedback that often gets overlooked, is the
reinforcement of desirable behaviours
. As with the 'blind spots' mentioned earlier, some learners may not also be aware that they are displaying desirable behaviours, knowledge or attitudes, therefore by giving them feedback you are raising their awareness and reinforcing this behavior. This feedback also helps to motivate the learner and encourage them to complete more complex tasks as well as improve morale (Delany & Malloy 2018).
References
Chang, E & Daly, J 2012, Transitions in Nursing: Preparing for Professional Practice, 3rd edn, Elsevier, Sydney.
Chowdhury, RR & Kalu, G 2004, 'Learning to give feedback in medical education', The Obstetrician and Gynecologist, vol. 6, pp. 243-7.
Duffy, K 2013, 'Providing constructive feedback to students during mentoring', Nursing Standard, vol. 27, no. 31, pp. 50-6.
Matua, GE, Seshan, V, Akintola, AA & Thanka AN 2014, 'Strategies for providing effective feedback during preceptorship: Perspectives from an Omani hospital', Journal of Nursing Education and Practice, vol. 4, no. 10, pp. 24-31.
Mind Tools 2017, The situation – behavior – impact feedback tool: Providing clear, specific feedback. Available from: https://www.mindtools.com/pages/article/situation-behavior-impact-feedback.htm
Rose, M & Best, D (eds) 2005, Transforming Practice Through Clinical Education, Professional Supervision and Mentoring, Elsevier, Sydney.
Sodeify, R, Vanaki, Z & Mohammadi, E 2013, 'Nurses' Experiences of Perceived Support and their Contributing Factors: A Qualitative Content Analysis', Iranian Journal of Nursing and Midwifery Research, vol. 18, no. 3, pp. 191-7, viewed 16 February 2017, https://www.ncbi.nlm.nih.gov/pmc/articles/PMC3748536/
Cox, S. (2016). Give the gift of feedback. Nursing Management, 47(5), online. Available: https://journals.lww.com/nursingmanagement/Fulltext/2016/05000/Give_the_gift_of_feedback.11.aspx
C. & Molloy, E. (2018). Learning and Teaching in Clinical Contexts. Elsevier. Chatswood
Hardavella, G., Aamli-Gaagnat, A., Saad, N., Rousalova, I. & Sreter, K.B. (2017). How to give and receive feedback effectively. Breathe, 13(4), 327-333. Online. Available: https://www.ncbi.nlm.nih.gov/pmc/articles/PMC5709796/
Van Der Leeuw, R.M. (2014). Sharing is caring: Dealing with feedback and difficult feelings. Medical Education, 48 (11). Online. Available: https://onlinelibrary-wiley-com.epworth.idm.oclc.org/doi/full/10.1111/medu.12545
Author
Sally Moyle is a rehabilitation nurse educator who has completed her masters of nursing (clinical nursing and teaching). She is passionate about education in nursing so that we can become the best nurses possible. Sally has experience in many nursing sectors including rehabilitation, medical, orthopaedic, neurosurgical, day surgery, emergency, aged care, and general surgery. See Educator Profile