There are important considerations when it comes to emergency nursing and disasters.
Regardless of the cause of a disaster, whether natural or man-made, it is a catastrophic event that leads to great loss and destruction. Logue (1996) defines a disaster as 'an event that causes excessive morbidity and mortality', so it goes without saying that giving medical attention to the people involved is a priority.
These events are often so devastating that the first response quickly becomes overwhelmed and a disaster is declared. This is the point at which nurses and other health professionals may be asked to volunteer and provide medical assistance.
Of course, there may be some emergency situations closer to home where we're needed to provide help and support. It's for that reason that every healthcare professional should have an awareness of what nursing disaster patients involves, and the best way to prepare to help.
Fewer Resources
One of the key differences when it comes to emergency nursing is trying to do as much as possible with fewer resources.
Shortage of medical personnel, breakdown in communication, insufficient power generation and limited resources are shared problems whether dealing with a disaster at home or abroad.
When dealing with mass casualties, the usual rule of 'first come, first treated' does not come into play. Higher priority must be given to patients whose immediate or long-term prognosis can be influenced by simple and intensive care, whereas those who require a greater deal of care and attention but will have questionable results have the lowest priority.
This can be a difficult concept to grasp for nurses used to providing care to those with the highest needs first, but with sparse resources and multiple casualties, that approach simply isn't practical. A system will be used to identify the care each patient will require. The most common classification system used around the world is the internationally accepted four colour code:
Red – high priority treatment or transfer.
Yellow – medium priority patients.
Green – ambulatory patients.
Black – dead or moribund patients.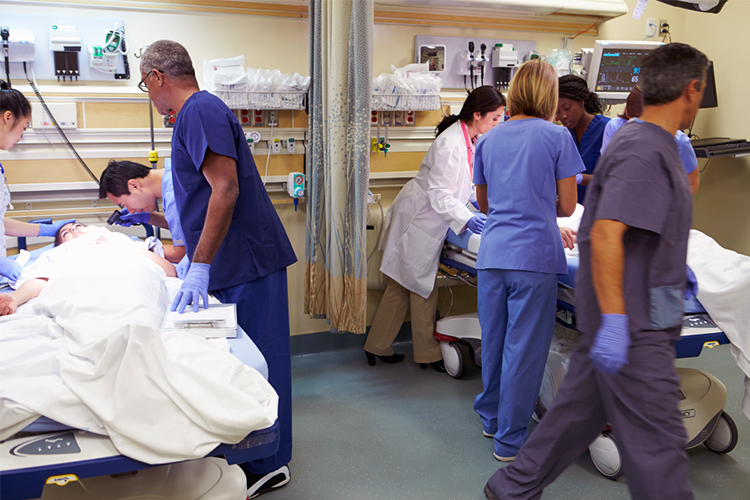 Triage should be carried out at the scene of the disaster, but this may not always be the case.
When dealing with a city disaster, patients may make their own way to the hospital or care facility. Similarly, further afield in countries where natural disasters may occur, casualties may drift to the nearest first aid point days after the event, and at some distance away from the impact site.
The walking wounded are often diverted, wherever possible, to other care facilities, or asked to treat themselves at home. Obvious care needs to be taken during triage to avoid missing indicators of more serious medical conditions such as brain injury, bleeding, or hidden fractures, and patients advised on signs and symptoms to look out for.
Whilst care of our patients remains paramount – there are some considerations we need to take as nurses working in disaster areas and emergency situations.
If you're choosing to work in a disaster area and provide volunteer relief, there are numerous factors you need to consider:
Do you have a specific skill you can offer to the situation?
Are you in physically good health?
Are you psychologically able to cope with devastating circumstances?
Can you afford to travel and work in a disaster zone?
Conditions in a disaster area often remain hazardous for quite some time after the initial event, which can quickly take a toll on your physical and mental health. You'll potentially be living and sleeping in less than ideal accommodation, and often without running water or flushing toilets. Disease is often rife in disaster-struck countries, and hot climates can cause you to dehydrate and lose electrolytes.
You'll need to be clinically experienced enough to turn your hand to any form of nursing that is required, that may be clinical, surgical, paediatric, geriatric, etc. If you're not able to hit the floor running and have the skills to be able to help in any circumstance, you're going to find an already challenging situation extremely difficult.
One similarity between home disasters and those we may travel to abroad is the psychological impact of what you'll see.
It's difficult not to feel overwhelmed when you're surrounded by extreme suffering and loss of life. You might feel that you have to 'fix' everything and everyone, but that's not why you're there. Your role as a disaster nurse is to triage and stabilise a patient, enabling them to be evacuated and/or diverted to the treatment area.
It's not uncommon for nurses to feel conflicted whilst working on disasters – frustrated that they can't do more to help the victims they come across.
Taking personal time for a break is essential, although you might feel guilty when you're still surrounded by victims desperate for help. No one will criticise you for looking after yourself when it means you're better able to look after others.
Naturally, there is a toll on our physical health when it comes to nursing through a disaster. Long shifts with little sleep alone is more than enough to make us feel run down and open to virus and infection. Working in disaster-struck areas can mean working on unstable terrain, sleeping in cramped and uncomfortable conditions, and trying to help as many victims as possible with inadequate resources. The ability to cope well with stress is essential.
Our want to assist those affected by a disaster should be balanced against our ability to provide that help.
Make sure you're able to deal with anything a disaster could potentially throw at you if you're thinking of volunteering for a disaster relief program. If you're dealing with an emergency at home, ensure you take regular breaks and if things get too much, speak to the counsellor on hand or talk things through with your colleagues when you get the opportunity.
Emergency nursing is certainly challenging, so whatever the reason for the disaster, ample consideration needs to be taken that it's the right choice for you. The psychological effects could result in some serious implications in the future, such as PTSD. Of course, any of us could be involved in nursing disaster-struck patients at some point in our careers.
So, it is crucial that we know how to triage those patients quickly and effectively to protect as much life as we can, all the while looking after ourselves and our colleagues to get through an incredibly difficult experience.
References
Babar, I, Rinker, R 2006, 'Direct Patient Care During an Acute Disaster: Chasing the Will-o'-the-wisp', Critical Care, vol. 10, no. 1, p. 206, https://www.ncbi.nlm.nih.gov/pmc/articles/PMC1550799/
Logue, JN 1996, 'Disasters, the Environment, and Public Health: Improving our Response', Am J Public Health, vol. 86, pp. 1207–10, https://ajph.aphapublications.org/doi/abs/10.2105/AJPH.86.9.1207
Stelton, S 2011, 'From our Readers – is Disaster Relief Nursing for you?', American Nurse Today, vol. 6, no. 8, viewed 26 August 2017, https://www.myamericannurse.com/from-our-readers-is-disaster-relief-nursing-for-you/