With approximately half of Australian patients experiencing chest pain being transported to the hospital via ambulance, paramedics are now performing ECGs during transit in order to streamline this process (ACSQHC 2015).
Why is Rapid Diagnosis Important?
Rapid diagnosis of acute coronary syndrome (ACS) is vital, especially if a patient is experiencing an ST-elevation myocardial infarction (STEMI) - the most serious and time-dependent type of heart attack (ACSQHC 2015).
The key step for making this crucial diagnosis is using a 12-lead electrocardiogram (ECG) to identify changes indicative of STEMI (ACSQHC 2015).
A patient experiencing a STEMI requires immediate reperfusion treatment to restore blood flow to their heart and reduce their risk of death or damage to heart tissue. A positive patient outcome relies on this treatment occurring as close as possible to the onset of symptoms (ACSQHC 2015).
Therefore, the sooner an ECG is carried out and interpreted, the sooner a STEMI is able to be identified and addressed, and the greater likelihood there is of patient survival (ANZCOR 2016).
An early ECG may also allow paramedics to provide fibrinolytic therapy in some circumstances, allow the receiving hospital to prepare for reperfusion prior to the patient's arrival, or direct the patient to an appropriate hospital that is able to perform a percutaneous coronary intervention (PCI) (ACSQHC 2015).
International studies have found that being able to notify the hospital in advance may reduce the risk of short-term patient mortality by 30 to 40% (ACSQHC 2015).
This is particularly crucial for patients who live in remote or rural areas and may already experience delays due to their distance from care facilities (ACSQHC 2015).
What are the Current Guidelines?
The current Australian Clinical Care Standards state that patients who are displaying acute chest pain or other symptoms indicative of ACS should undergo a 12-lead ECG and have the results interpreted within 10 minutes of their initial emergency clinical contact (ACSQHC 2019).
This initial emergency clinical contact applies to paramedics in addition to hospitals (ACSQHC 2015).
International organisations including the American College of Cardiology Foundation (ACCF), American Heart Association Task Force (AHA), and the European Society of Cardiology (ESC) all indicate the use of ECG in cases of suspected STEMI at the first point of clinical contact. Once performed by a paramedic, the ECG may be interpreted in the prehospital setting or transmitted to the receiving care facility for interpretation there (Daiber, Sauerberg & Gnugnoli 2020).
Australian guidelines state that patients experiencing a STEMI must undergo a percutaneous coronary intervention (PCI) within 90 minutes of first medical contact (by being transported to a PCI-capable hospital), or a fibrinolysis administered by paramedics within 30 minutes of first medical contact. An ECG being performed in the prehospital setting allows these interventions to take place sooner (ACSQHC 2015).
Which Patients Should Undergo a Prehospital ECG?
According to the Queensland Ambulance Service, a prehospital ECG may be indicated for:
Patients displaying signs and symptoms of an acute myocardial infarction (e.g. chest pain and tightness);
Patients displaying an altered level of consciousness;
Patients experiencing an overdose;
Patients who have been envenomated;
Patients with electrolyte disorders;
Patients experiencing syncope;
Patients displaying grossly altered vital signs; and
Patients who require a detailed ECG analysis due to:

Suspected ACS;
Cardiac dysrhythmia;
Conduction disturbance;
Electrolyte imbalance; or
Drug toxicity.
(QAS 2019a)
Are There Proven Benefits of Prehospital ECG?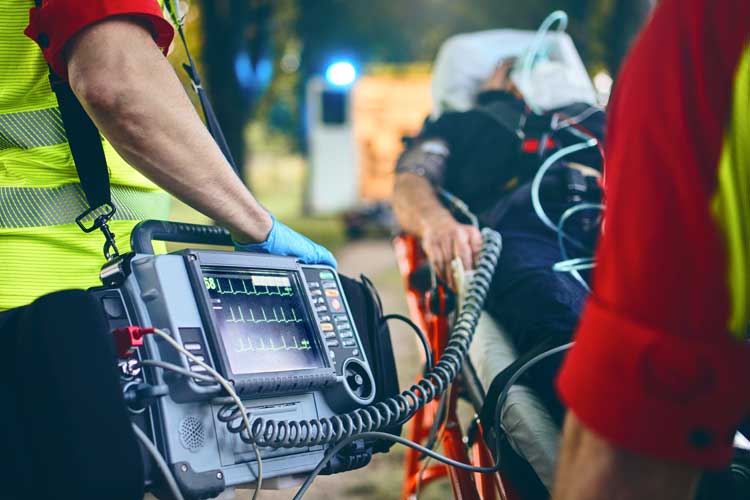 Across Australia, prehospital ECG has been demonstrated to contribute to improved patient outcomes. These include a reduced risk of patient mortality, halved 'door-to-balloon' time (the time between patient arrival to emergency and the inflation of a balloon in the blocked artery) and the delivery of fibrinolysis within 120 minutes of initial STEMI symptoms (ACSQHC 2015; Levine 2018).
Prehospital ECG may also offer a 'survival advantage' for both STEMI and non-STEMI patients (Quinn et a. 2014).
Are there any Disadvantages of Prehospital ECG?
The main disadvantage identified for prehospital ECG has been the extra time it takes.
However, a study found that although prehospital ECG adds a 'trivial' delay to the total amount of time spent on patients experiencing chest pain, STEMI patients may actually see reduced ischemic time overall if prehospital ECG is implemented (Patel et al. 2012).
The reason for this is that prehospital ECG allows certain steps of the transport and treatment process to be shortened, namely the time between hospital arrival and ECG (which can be completely eliminated if ECG is performed on-scene), and the time between ECG and reperfusion, which can be reduced if the hospital is notified in advance (as an ECG has already been performed prior to arrival) (Patel et al. 2012).
The study also found that due to improved paramedic workflow, the implementation of a prehospital ECG should not adversely increase scene and transport times and should actually decrease the time between emergency services arrival and arrival to hospital instead (Patel et al. 2012).
Even if prehospital ECG does cause a slight scene-to-hospital delay, it has an overall mortality benefit and improves first medical contact to reperfusion (Daiber, Sauerberg & Gnugnoli 2020).
In Queensland, paramedics are performing well against benchmarks:
The median time between arrival on the scene and 12-lead ECG is 6 minutes (4 minutes under the 10 minutes specified by Australian Clinical Care Standards);
The median time between STEMI 12-lead ECG and reperfusion treatment is 83 minutes for direct referral primary percutaneous coronary intervention (pPCI) patients; and
The median time between STEMI 12-lead ECG and prehospital fibrinolysis administration is 20 minutes.
(QAS 2019b)
Another concern may be the pracademic's ability to interpret the ECG results, however, studies suggest that they are proficient in doing so (Funder, Ross & Ryan 2016).
Performing a 12-lead ECG in the Field
For a comprehensive guide to 12-lead ECG, see 12 Lead ECG Placement.
Explain to the patient what is required, ensure privacy and obtain consent to place electrodes.
If required, remove excess hair to ensure electrodes have full contact with the patient's skin.
Clean and dry the skin.
Position the patient preferably supine or semi-recumbent (without arms or legs crossed).
Attach electrodes to the connector on each lead, ensuring electrodes are in date and gel is moist.
Accurately position the chest electrodes on the patient.
Refer to the operating instructions for the specific ECG monitoring device being used.
(CC: Queensland Ambulance Service, Clinical Practice Procedures: Cardiac/12-lead ECG Acquisition 2019)
Note that you may consider repositioning the V4 lead to V4R for evaluation of right ventricular involvement with inferior STEMI. Ensure the changes to this lead placement have been made on the 12-lead ECG machine.
Note: This article is intended as a refresher and should not replace best-practice care. Always refer to your organisation's policy on ECG.
Additional Resources
References
Test Your Knowledge
(Subscribers Only)
Question 1 of 3
True or false? Prehospital ECG may also offer a 'survival advantage' even for non-STEMI patients.
Start an Ausmed Subscription to unlock this feature!