Understanding Industrial and Employment Law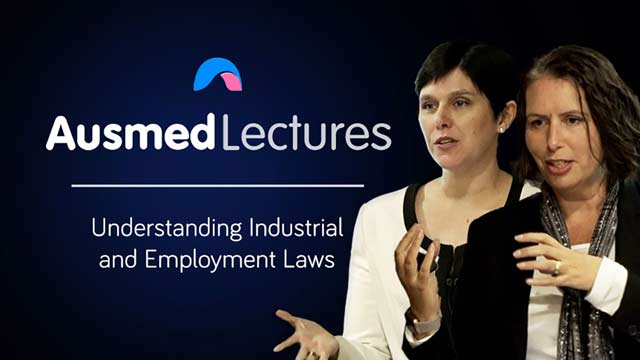 You will need to subscribe to Ausmed Education to have access to ALL of our extensive, quality online content.
Lecture Overview
A crash-course in the legal responsibilities, and your rights as a manager, that underpin handling workforce issues such as: absenteeism, sick leave, employee mental health, bullying, managing injured workers and offering equal opportunity in the workplace.
Educators
Shae McCartney
Shae McCartney is a partner at Clayton Utz in the Workplace Relations, Employment & Safety Group. Shae advises corporate and government clients on a range of issues, including industrial and employment, health and safety, legal compliance, as well as dispute resolution. Shae's strategic and litigious industrial relations knowledge spans a broad range of industrially active industries, such as local and state government, banking, mining, construction, manufacturing, ports, aviation, transport, water, and electricity. Shae's clients report that her industry knowledge, interest in and understanding of their business ensures that she always provides commercial, practical, and outcome-focused legal advice. An experienced trainer, she provides innovative and practical training (both public and client-tailored) in all areas of employment law. Some of the training topics Shae covers are the transition to Fair Work Act, occupational health & safety, managing injured workers, advocacy before courts and tribunals, complex EEO and bullying investigations, managing absenteeism, and industrial relations.
Hilary Searing
Hilary Searing is a senior associate in the workplace relations, employment, and safety practice at Clayton Utz. She specialises in industrial relations, employment, safety, and discrimination law and brings over ten years' experience working in different jurisdictions within Australia and overseas. Hilary is particularly skilled in assisting clients with finding pragmatic and commercial solutions within legal parameters. She has represented clients in the federal and supreme courts, as well as various commissions and the anti-discrimination tribunals at both state and federal levels, and has a sound understanding of litigious processes. Hilary has a broad range of experience and has provided strategic employment, safety, and industrial relations advice to clients in the construction, engineering, resources, and agribusiness industries. She has also worked extensively with government and government-owned corporations. Her work covers a range of issues from the initial contract of employment through to termination of employment, as well as advising clients on how to manage ill and injured employees.
Related Learning Hubs
Reviews