Mandatory Education: Why Do We Do it?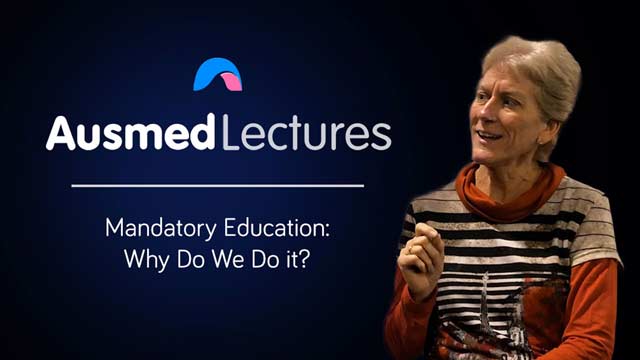 You will need to subscribe to Ausmed Education to have access to ALL of our extensive, quality online content.
Lecture Overview
This short interview recorded at the Association for Nursing Professional Development 2018 Annual Convention in Orlando, Florida, offers a fresh look at mandatory training and its expectations that it will achieve staff competence. Importantly, Donna Wright considers the question 'why do we do it?'.
Donna looks at the problems associated with routine mandatory training - still so common in many health settings. Questioning whether it is always the best way to improve staff competence, she reveals a possible downside to mandatory training. Rather, she sets her focus on how to achieve desired outcomes.
Indeed, in the introduction to her book entitled 'The ultimate guide to competency assessment in health care (2005)' she states:
"It is easy for us to fall into the common competency assessment traps. We can commit to assessing so many competencies that we begin to drown in them. We can get stuck in the trap of measuring the same competencies year after year …"
Talking in a plain language she describes how to implement a much more meaningful approach to competency assessment.
If you are involved in mandatory training or are forced to undertake it year on year, in your healthcare organisation - you need to watch this very engaging interview.
References:
Creative Healthcare Management 2018, 'Resources for healthcare professionals, viewed 7 December 2018, https://shop.chcm.com/.
Wright, D 2005, Ultimate guide to competency assessment in healthcare, 3rd edn, Creative Healthcare Management, Minneapolis.
Wright, D 2015, Competency assessment field guide: a real world guide for implementation and application, Creative Healthcare Management, Minneapolis.
Educators
Donna Wright
Donna Wright developed the Wright Model of Competency which is now used extensively in the United States of America, where she lives. She is a powerful presenter and is known for her irreverent wit and astute pragmatism. She is extremely savvy and has a global perspective—literally. She's worked on every continent but Antarctica, and she has her eyes set on that, too. Donna offers education and consultation based on her bestselling books. The Ultimate Guide to Competency Assessment, which has been translated into Japanese, has become the industry standard for establishing and assessing competency. She is also a contributing author in the book Advancing Relationship-Based Cultures. Donna is a sought-after team and leadership development consultant and speaker. She loves operationalising systems within organisations that ensure accountability and measure competency. With her background as an oncology nurse and her extensive experience working with health care executives, Donna understands how health care organisations and the caregivers at every level within them work and how they can work better together. Ausmed is pleased to bring Donna out for this educational training session that is not to be missed.
Related Learning Hubs
Reviews