This article has been archived and is no longer being actively maintained for accuracy.
The very essence of midwifery care is to support a woman throughout her labour.
For decades the concept of 'continuity of care' has been at the heart of maternity policies everywhere.
In practice however, up to 85% of mothers report not having previously met any of the midwives caring for them during labour, with 21% of mothers reporting that they were left alone at a time when they were worried during labour, or straight after birth (McLeish and Redshaw 2018).
All women should have support throughout their labour and birth. Yet with increasing pressures on staffing levels, many midwives struggle to provide continuous care despite the knowledge of the many benefits this brings.
To combat this a new trend is emerging as doulas are beginning to step into the role traditionally filled by midwives, offering mothers a level of support that many midwives find hard to match.
Why is Continuity of Care in Labour so Important?
It's widely accepted that maintaining a close connection with a labouring woman results in a better birth experience for both the mother and her family.
Recently multiple research studies have also endorsed what mothers and midwives have always known, that the right level of support from a trained professional is linked with reduced interventions, increased breastfeeding, increased satisfaction with the birth experience and enhanced maternal emotional wellbeing (McLeish and Redshaw 2018).
Evidence of multiple benefits is also supported by a recent Cochrane review which compared 26 randomised controlled trials of continuous support in labour, with no support in labour. Again, the results were unequivocal, showing that when women had continuous support of any kind, from family, midwives, or doulas, they had a better birth experience (Bohren 2017).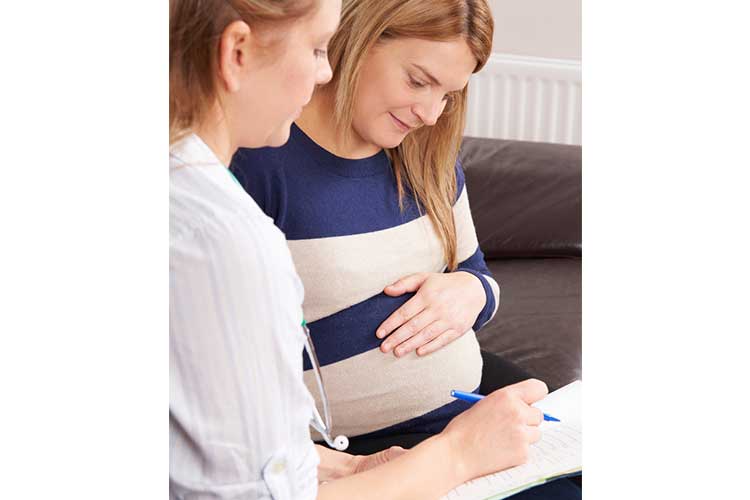 For example, women with continuous labour support were less likely to:
have an epidural or other regional analgesia to manage pain.
use any type of pain medication (including narcotics).
give birth with vacuum extraction or forceps.
give birth to a baby with a low Apgar score at five minutes after birth.
In other words, continuous support during labour has clinically meaningful benefits for women and their babies with no known harms. Interestingly, however, it was only with the support of a trained doula that women were less likely to give birth by caesarean section, or express dissatisfaction with their birth experience overall (Bohren et al. 2017).
Data collected by the Childbirth Connection (2018), also supports the benefits of continuous care in labour with the following statistics.
39% of women are less likely to have a caesarean
35% of women are less likely to report their childbirth experience negatively
Taken overall, there is overwhelming evidence that with continuous support in labour, both mothers and babies are statistically more likely to have better outcomes (Dekker 2017).
Interestingly, much of the available research indicates that doulas are better birth companions that midwives. For example, Hodnett (2011) suggests that continuous support was most effective when provided by a woman who was neither part of the hospital staff, nor the woman's social network, which makes doulas ideal birthing partners.
The deeper question to ask though, is why is this so? What is it about the presence of a doula in particular that allows women to labour more easily?
Matching the Mother's State
In attempting to explain the benefit of doulas, Simkin (2018) suggests that one of their key strengths lies in their ability to match the mood of the labouring woman, communicating with her in a variety of nonverbal ways as her mental state changes throughout labour.
Mental alertness, clinical knowledge, and quick thinking are all important qualities for a Midwife to have. But these qualities all relate to a higher order of thinking that relates to the neocortex, that part of the brain where thoughts, interpretations and judgment take place. It's a style of thinking that is often at odds with that of a labouring woman who may be functioning at the level of the limbic system, where feelings like stress, fear and dependency predominate over reason and judgment (Simpkin 2018).
One of the great advantages doulas have over Midwives is their ability to match the mother's emotional state and adapt their care accordingly. A skill that is much harder for a midwife to achieve whilst fulfilling all the other duties of a busy maternity unit.
As well as intense focus on the wellbeing and mental state of the mother, doulas can also be aware of what is going on in the broader environment and how this may be affecting the labour. With nothing else to do other than supporting the mother, the doula can protect her from outside influences. An aspect of labour that Odent (2018) suggests is vital to allow the mother to 'go within' and reduce the activity of her neocortex as she prepares for birth.
Should Doulas Have an Official Role Supporting Midwives?
Whilst most Midwives hold the belief that they should be able to encompass the role of the doula within their normal scope of practice, the reality of understaffing and pressures of work leave many Midwives feeling as though they are little more than overstretched clinicians. The resulting gap in care has resulted in calls for doulas to be recognised alongside midwives, working in partnership for the overall benefit of mothers (Hardy Baker 2018).
Whilst some Midwives welcome the presence of a doula in the birthing room, others are resistant to the idea and as McLeish and Redshaw (2018) discovered in their recent research, three distinct themes emerged in relation to doulas and midwives working together.
The doula as complementary to midwives
The doula as a colleague to midwives
The doula as a challenge to midwives
Hardy and Baker (2018) argue, however, that working together does not always mean actively practising together but coming together in the shared goal of creating and supporting empowered, positive, healthy birth experiences for all women. As they point out, midwives and doulas have always been closely associated together in one form or another during birth.
Odent (2018), also gives unequivocal support for the presence of doulas in the birthing room, arguing that at a time when the generation gap is deeper than ever, and in the age of nuclear, one-parent families, some women look for substitutes for their own mothers during the period surrounding birth.
Historically, of course, woman have always been attended and supported by other women during labour, perhaps the time has now come to recognise that doulas are ideally placed to support both mothers and Midwives, complementing the role of the Midwife rather than competing with them, or duplicating their work.
[show_more more="Show References" less="Hide References" align="center" color="#808080″]
References
[/show_more]