Thunderstorm Asthma: Managing Large-Scale Emergencies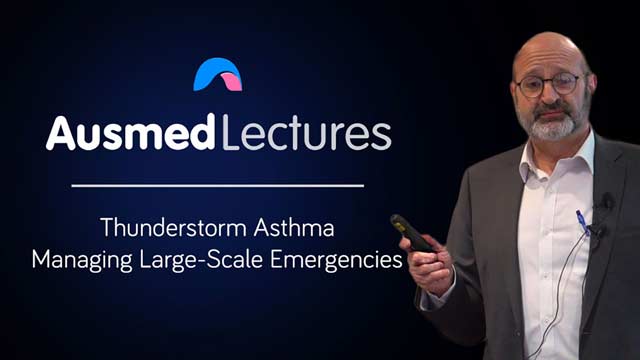 You will need to subscribe to Ausmed Education to have access to ALL of our extensive, quality online content.
Lecture Overview
In October of 2017, nine Victorians tragically died as a result of or due to complications associated with thunderstorm asthma. The disastrous weather event saw emergency services become overwhelmed with desperate calls from people suffering from acute respiratory problems. While we have long known that weather conditions can play havoc with the symptoms that people with asthma and allergies experience, why did it cause nine people to lose their lives? This session with Professor George Braitberg is not to be missed, as he recounts events from his first-hand experience on the ED floor of the Royal Melbourne Hospital.
Educators
George Braitberg
George Braitberg is executive director of strategy, quality, and improvement at Melbourne Health and professor of emergency medicine at the University of Melbourne. After completing his training in emergency medicine in Australia, Professor Braitberg undertook a fellowship in medical toxicology in Phoenix, Arizona. He is also a fellow of the Australasian College for Emergency Medicine, the American College of Medical Toxicology, and the Royal Australian College of Medical Administrators. He holds a master in bioethics and health services management. Professor Braitberg work as a consultant emergency physician, toxicologist, and administrator. He is a board member of St Johns Ambulance Victoria, a medical advisor to Ambulance Victoria, a member of the Victorian Clinical Council, and the Board Ministerial Advisory Committee. His research interests include toxicology, pre-hospital care, and clinical governance. He received an Order of Australia (AM) in 2018.
Related Learning Hubs
Reviews