The transition from student nurse to Registered nurse can be fraught with many emotions…
Not only happiness and excitement, but also fear, anxiety and uncertainty.
It can be a time when new graduates are questioning everything from their ability, to whether they made the right career choice, and whether they will ever be like the nurses they are now working with on their new ward.
This transition period is often described by people as a complete reality shock, and let's face it, apart from nursing not many other occupations come with the added chance that you can severely hurt or kill another human being.
But fear not! Every nurse, at one point or another, has experienced these feelings.
It is common for new nurses to feel insecure and unsure about their ability to be a registered nurse, and there is a multitude of issues that may arise, which only serve to add to these feelings of insecurity.
Issues Faced by New Nurses
Some of the common issues that occur during this transition period from student nurse to registered nurse include:
Theory-to-practice gaps
Caring for increasingly complex patients with multiple comorbidities
Time management
Medicines administration
Patient assessment skills
Documentation skills
Limited proficiency in managing and executing technical skills
Working and collaborating within teams
Accountability
Decision-making
Shiftwork
Developing competency in planning and organising
Prioritising and coping with unexpected events
Lack of access to experienced mentors and coaches
Performance anxiety
Bullying
(Chang & Daly 2012; Hofler & Thomas 2016; Kaihlanen et al. 2013)
Benefits Graduate Nurses Bring to the Ward
It is also important to acknowledge that during this transition period, graduate nurses will also bring many benefits to the workforce.
Research has found that new nursing graduates often had considerable strengths in the following areas:
Communication skills with the patients
Psychosocial assessment skills
Accountability for their own practice
(Chang & Daly 2012)
They are very aware of the importance of their role as a professional, registered nurse and uphold their professional values accordingly.
New nurses display an awareness of the different roles a nurse must play, such as being a teacher, a provider of care, a communicator, an advocate, a coordinator, a decision-maker, and also, being able to suggest changes in practice (Chang & Daly 2012).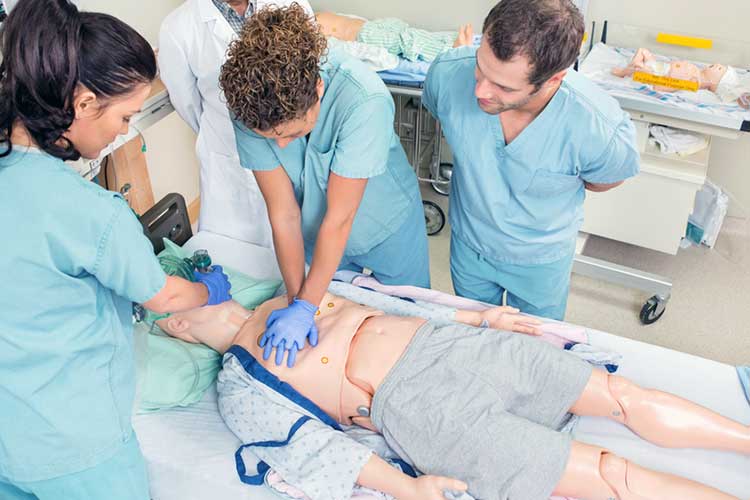 How to Help Facilitate Transition from Student Nurse to Registered Nurse
There are many different strategies that can assist those in the transition from student nurse to registered nurse, and these can vary depending on the individual, the workplace and the team.
Preceptor Programs and Mentoring
Support is a major factor in ensuring a smooth transition period.
A preceptor program has been shown to be very effective in offering support to new nurses.
Preceptor programs have been found to help ensure more positive outcomes in the first six months of transitioning to a registered nurse and help not only to reduce culture shock but also to integrate and link theory with practice.
Preceptor programs support the graduate by allowing them to work closely with another experienced nurse in order to develop their confidence, competence and gradually gain more autonomy in patient care.
Not only does the preceptor or mentor help to guide the nurse in their clinical learning process, but also with their professional and personal growth (Chang & Daly 2012; Hofler & Thomas 2016; Kaihlanen et al. 2013).
A Supportive Environment
A supportive environment is also a key factor in ensuring a successful transition.
A supportive environment should provide opportunities for the newly registered nurse to gain development in their clinical skills and patient management skills, and to see the effective outcomes of their work in practice, therefore encouraging further confidence in their ability.
Being part of a supportive environment should also allow the new nurse to feel comfortable raising any issues or concerns during their transition period, allowing any potential problems to be identified and managed early – essential in reducing anxiety and stress (Chang & Daly 2012).
Planning
It can be also very beneficial for nursing students to have an understanding and awareness of some of the potential challenges and issues commonly faced during this transition period.
This encourages the nurse to preemptively devise strategies that will assist them in this transition before the problem occurs, making the adjustment a more positive experience (Chang & Daly 2012).
Self-Care
It is also important during this time of transition that graduate and new registered nurses care for themselves and ensure a healthy balance between their new role as a registered nurse and their lifestyle.
The transition from student to registered nurse can also prove to be a turbulent time personally, as well as professionally, serving to only compound feelings of exhaustion and anxiety.
It is critical that new nurses are aware of the importance of a healthy work-life balance, early on (Hofler & Thomas 2016).
Points for a Positive Transition:
Some other strategies and factors that have been found to facilitate a positive transition from student nurse to registered nurse include:
Adequate staffing patterns
Open communication
Good administration
Leaders who are approachable and responsive
Support when dealing with deteriorating patients, death and dying
Orientation programs with realistic goals
Timely provision of constructive feedback
Appropriate guidance from senior staff
Continuing staff development opportunities
The availability of support and counselling for staff
Reduction of stress levels in the new graduate by using personal strategies such as exercise or meditation
(Chang & Daly 2012)
If any graduate or newly registered nurses are experiencing difficulties during their transition period, it is important that they seek help.
This can be from a variety of sources, including their educators, mentors, preceptors, nursing leaders, co-workers, as well as supports outside their workplace.
Some workplaces will also have access to free support and counseling services that staff can use, and organisations such as the Australian Nursing and Midwifery Federation, and Nurse & Midwife Support can also provide support to individuals during this time.

References
Chang E & Daly J (eds), 2012, Transitions in Nursing: Preparing for Professional Practice, 3rd edn, Elsevier, Chatswood
Kaihlanen, AM, Lakanmaa, RL & Salminen L 2013, The transition from nursing student to registered nurse: The mentor's possibilities to act as a supporter, Nurse Education in Practice, vol. 13, no. 5, pp. 418-422
Hofler, L & Thomas, K 2016, Transition of new graduate nurses to the workforce: Challenges and solutions in the changing health care environment, North Carolina Medical Journal, vol. 77, no. 2, pp. 133-136, available from: http://www.ncmedicaljournal.com/content/77/2/133.full
Author
Sally Moyle is a rehabilitation nurse educator who has completed her masters of nursing (clinical nursing and teaching). She is passionate about education in nursing so that we can become the best nurses possible. Sally has experience in many nursing sectors including rehabilitation, medical, orthopaedic, neurosurgical, day surgery, emergency, aged care, and general surgery. See Educator Profile