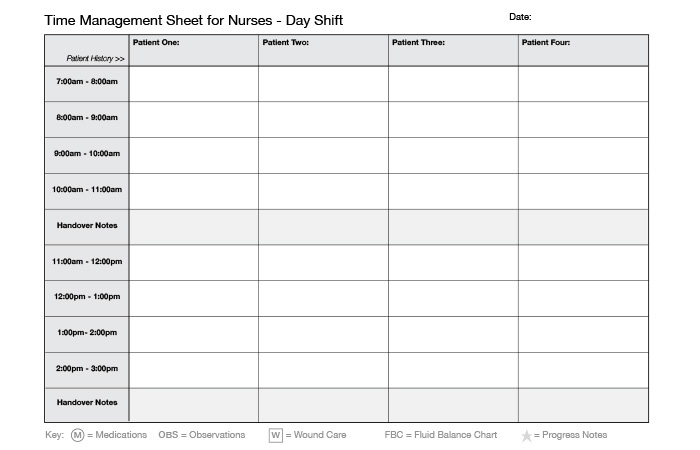 Click on the image above to download a time management template for nurses and midwives. Ausmed
Whether it is multiple patients, too many call bells, or the needs of co-workers, nurses deal with many different types of stress and have to know how to juggle all of these wildly different people and events clamouring for their attention with ease. Sometimes life outside of work can also test a nurse's sense of time management skills, so the skills a nurse learns to manage patients can often help make their home life flow more smoothly. To master how to navigate the stressful waters of nursing work and a hectic home life — the life of a nurse — a nurse needs to deftly organise the information coming at them, prioritise that information to handle the most important tasks first, and learn to roll with the inevitable interruptions.
Once again, the most important aspect to consider in patients who refuse care is communication. You need to assure yourself – and the patient – that they understand what they are refusing and the consequences of that refusal. It is another invitation to teach the patient and to learn to accept wishes that go against your training.
Time Management Sheet
One of the hallmark ways to manage your time is to organise, and many nurses do this by using a special worksheet to mark down important information about their patients. Many lovingly call them their "brains." These sheets have spaces for lab work, new orders, medication times, and other important information that a nurse needs to remember throughout the day. Ask more experienced nurses for blank copies of their sheets and use them for a few days. Once you have an idea of what works and does not work for you, sit down with a word processor or spreadsheet program and make a flowchart of your own that organises all the important information you need on each patient for the shift. It takes a trial and error process to get a sheet that works right for you, but once you find the right combination, your organisation skills will help get you through your day.
Download a Time Management Sheet for Nurses [PDF]
When you start your shift, you will have a list of tasks that you need to do, and those tasks probably have a ranking in your head telling you which is the most important. When you prioritise, you systematically pick the task or patient that is the most important and see to it first. This has to be a conscious decision. Patients with critical lab. work or abnormal vital signs must take priority over routine tasks. This may seem like common sense, but it can get tricky in a nursing situation when many stressors are bombarding you. Sometimes, it is hard to know which task to pick first over another, but patient safety is always your best bet when prioritising tasks. If a patient's safety is not in question, then you have to prioritise via other criteria, such as patient need, potential for patient safety, or time sensitivity of a task. Even when there is no critical issue at stake, knowing which tasks need doing first helps you navigate the sheer volume of tasks that you have to face when you start and work through your shift.
Managing Interruptions
Despite all well laid plans, you will meet many interruptions. Actually, you should expect that you will likely not get very far with any of your plans when you start your shift. However, you need a plan to go back to after you are done with the interruption. The trick is to not get so attached to the time management plan that any deviation makes you shrivel up into a ball. You need to deal with the interruption – a code blue, a fall, a doctor's call – and then calmly go back to your other duties. A nurse has a plan in mind of how the day is going to go, but that plan can often fly out the window five minutes into the shift. After an interruption, go back to your original plan, reprioritise what needs to be done, and start from the beginning to get the work done.
This article was originally published on 9 November 2011, it was revised and re-published on 10 April 2014.
[show_more more="Show References" less="Hide References" align="center" color="#808080″]
References
[/show_more]
Author
Lynda is a registered nurse with three years experience on a busy surgical floor in a city hospital. She graduated with an Associates degree in Nursing from Mercyhurst College Northeast in 2007 and lives in Erie, Pennsylvania in the United States. In her work, she took care of patients post operatively from open heart surgery, immediately post-operatively from gastric bypass, gastric banding surgery and post abdominal surgery. She also dealt with patient populations that experienced active chest pain, congestive heart failure, end stage renal disease, uncontrolled diabetes and a variety of other chronic, mental and surgical conditions. See Educator Profile