Many nurses and nursing students express tiredness, mental exhaustion and emotional exhaustion, at least in my nursing, academic and teaching experiences.
This reflection led me to wonder about the actual causes of nursing-related fatigue. Is there actual evidence showing a link between nursing and fatigue, or is it simply a biased observation?
According to the research…
Overworked Nurses
A 2012 study by Stimpfel, Sloane and Aiken found that clients' dissatisfaction with their care escalated as the number of nurses working shifts of 13hrs or more increased. Another important finding from Stimpfel et al. (2012) is that:
'nurses working shifts of ten hours or longer were up to two and a half times more likely than nurses working shorter shifts to experience burnout and job dissatisfaction and to intend to leave the job.'
Stimpfel et al. (2012) describe that longer shifts are detrimental to the wellbeing of nurses, care of clients and staff turnover. Stimpfel et al. (2012) acknowledge the necessity for constructing workplace policies and cultures that support nurses taking leave, leaving their shift on time, and not working overtime without being paid accordingly. It is evident that nurses should thereby be encouraged to also only start on time and not be expected to turn up for shifts well ahead of time without being paid for it.
Caruso (2014) similarly found that longer shifts and simply doing shift-work increases the chances for nurses': poor performance, obesity, chronic diseases, and injuries.
Moreover, Caruso recognises that nurses who are fatigued place other people at risk of harm during their commute to and from their nursing shift. It should also not be overlooked that nurses' fatigue places clients at risk of harm from fatigue-related errors. Caruso concludes that sleep must be made a priority by employers (when rostering) and nurses (in their personal lives).
Scott et al. (2014) found in their study that nurses are more likely to experience decision regret if they are fatigued, lack adequate sleep and are not able to recover well between shifts. (Decision regret is described as being a 'negative cognitive emotion that occurs when the actual outcome differs from the desired or expected outcome.')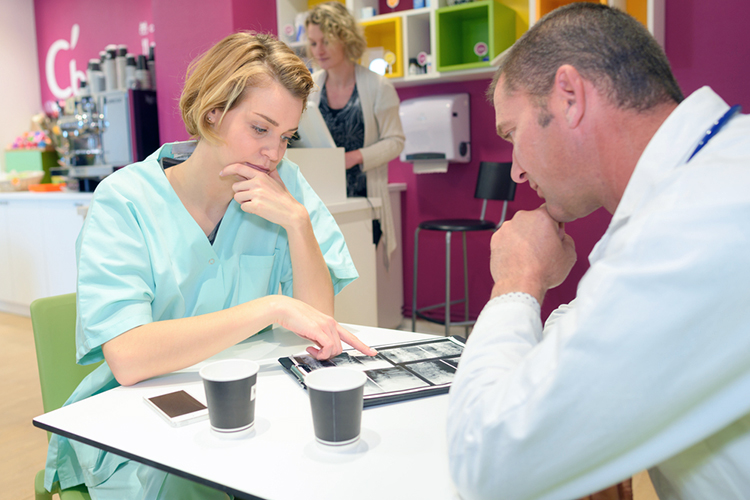 Nurse Compassion Fatigue
Fatigue can also present as compassion fatigue: when a person is fatigued/exhausted to the point where they cannot properly take part in caring relationships (Nolte et al. 2017).
Nolte et al. (2017) found in their meta-analysis that there were four key themes regarding compassion fatigue:
physically feeling worn out;
emotional symptoms;
triggers (e.g. feeling overburdened); and,
measures to overcome or prevent fatigue.
Compassion fatigue has been found to affect nursing performance (Nolte et al. 2017). Sagherian et al. (2016) identified that there was a higher rate of chronic fatigue amongst nurses that worked on their days off in comparison to the nurses that did not work on their days off. Sagherian et al. (2016) concur with Nolte et al. (2017), that there was better recovery between shifts and less fatigue reported by nurses that claim to feel refreshed after sleeping.
There is lower physical performance amongst nurses that experience acute or chronic fatigue, and furthermore, it was noted that nurses with chronic fatigue considered themselves to be 'less alert and less able to concentrate when providing patient care' (Sagherian et al. 2016).
Both acute and chronic fatigue in nurses was linked to poorer communication (Sagherian et al. 2016).
Night Shifts
Oyane et al. (2013) found in their Norwegian study that night-shift nurses were more likely to experience insomnia than nurses that had not worked night shifts. Chronic fatigue was more likely amongst current night-shift nurses; but intriguingly anxiety, depression and sleepiness were not found by this study to be linked to night-shift nursing (Oyane et al. 2013).
Eldevik et al. (2013) found that excessive sleepiness, insomnia and excessive fatigue were connected to 'quick returns' (less than 11hrs between nursing shifts). Smith-Miller et al. (2014) similarly conclude that many nurses experience 'high rates' of fatigue, and that working a shift longer than 12hrs increases fatigue and errors.
Summary
It is suggested that in order to prevent fatigue in nursing, improvements are needed for the individual's lifestyle, organisational policies, and the workplace culture (Smith-Miller et al. 2014).
References
Author
Madeline Gilkes, CNS, RN, is a Fellow of the Australasian Society of Lifestyle Medicine. She focused her master of healthcare leadership research project on health coaching for long-term weight loss in obese adults. In recent years, Madeline has found a passion for preventative nursing, transitioning from leadership roles (CNS Gerontology & Education, Clinical Facilitator) in hospital settings to primary healthcare nursing. Madeline's vision is to implement lifestyle medicine to prevent and treat chronic conditions. Her brief research proposal for her PhD application involves Lifestyle Medicine for Type 2 Diabetes Mellitus. Madeline is working towards Credentialled Diabetes Educator (CDE) status and primarily works in the role of Head of Nursing. Madeline's philosophy focuses on using humanistic management, adult learning theories/evidence and self-efficacy theories and interventions to promote positive learning environments. In addition to her Master of Healthcare Leadership, Madeline has a Graduate Certificate in Diabetes Education & Management, Graduate Certificate in Adult & Vocational Education, Graduate Certificate of Aged Care Nursing, and a Bachelor of Nursing. See Educator Profile
It's not done until it's documented