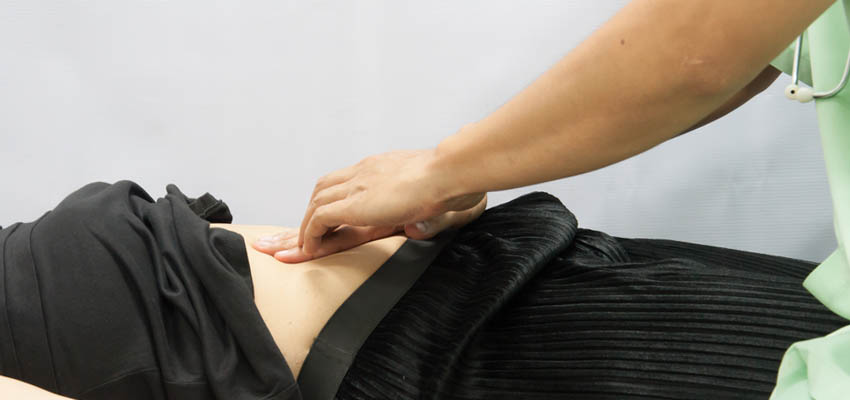 Along with the chest (i.e. Heart Sounds and Lung Sounds), the abdomen is a major focus of assessment. While everyone knows to listen for bowel sounds, that isn't the only way to assess this important part of the anatomy. You can inspect the area, palpate, and percuss. However, you should probably listen to bowel sounds before manipulating the stomach as this can cause changes in the way the sounds are heard.
The other three tools are important to fully assessing the abdomen, though many nurses skip these parts and proceed directly to bowel sounds. By slowing down assessment and giving the abdomen the time and attention it needs, nurses can notice problems that may get past even the most experienced doctors.
Inspection
When assessing the abdomen, inspection is often overlooked. Merely looking at the abdomen can tell you a great deal about the patient and their relative health.
You should first look for symmetry to make sure there are no masses or protrusions that make one side of the abdomen bigger than the other.
This short video provides a four-minute overview of things to remember when performing a nursing assessment of bowel function in a palliative care setting.
You should also look for pulsation or movements under the skin. In very thin people, you will be able to see the movements of peristalsis, but you may also be able to see abnormal pulses of the descending aorta. This is important information.
You may also want to compare the abdomen to the rest of the body. If the stomach is large and the legs are thin, you may want to consider ascites. Similarly, if the legs are swollen and deformed, that swelling may continue on into the abdomen. You should also inspect the skin of the area, looking for dry patches or puckering of the skin.
In some patients with oedema, the abdomen can resemble the surface of an orange, and this can tip you off to a fluid imbalance issue.
Palpation
Palpation or feeling the abdomen is nearly as important as listening for bowel sounds. Many nurses gloss over this assessment, merely pressing on the stomach half-heartedly and moving on. However, you should take the time to really feel the abdomen. One of the first problems you can find is masses in the gut. You need to use your hands thoroughly to inspect the entire surface of the abdomen, looking for any masses, bulges, protrusions, or abnormal spots in what should be soft tissue.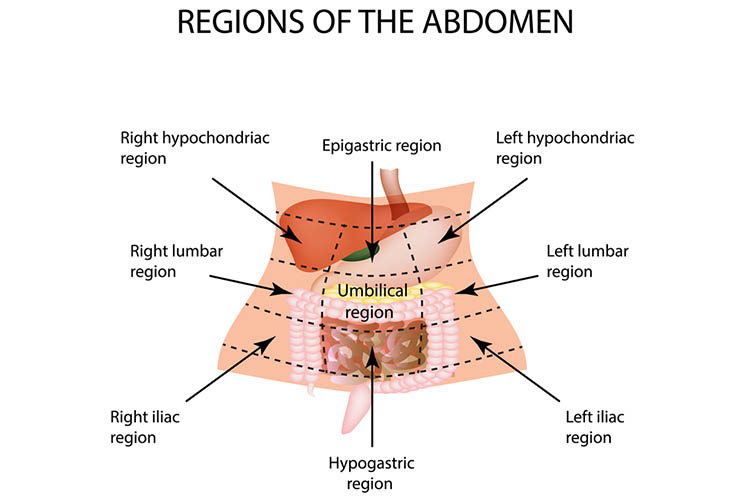 One of the problems with palpating the abdomen is eliciting a painful response from the patient. If they are complaining about abdominal pain and you deeply massage their abdomen, they are likely to squirm away from you. Still, it is important to feel the tissue for any abnormal signs.
One important part of palpation is guarding. You feel this when you attempt to palpate the abdomen but only feel resistance. This is because the patient is protecting their abdomen from pain, and it is a significant finding. Rebound tenderness is also important. You can find this by deeply palpating, removing your hands, and watching for a pain reaction. Either of these should be reported to the physician.
Percussion
Percussion isn't used by any but the most advanced health professionals. In fact, physicians, nurse practitioners, and other nurses of advanced standing are probably the only ones to use this technique. There is good reason for this. Percussion of the abdomen can't tell you nearly as much as the other forms of assessment can, but it can shed some light on what's going on under that tissue. To percuss, you place two fingers over an area and knock on your fingertips with the fingertips of the other hand. This will allow the sound to travel through the tissue.
In the case of masses, percussion will sound different from normal bowel tissue. Most bowel sounds are rather hollow and empty, but a mass will have a thicker, duller sound. Blockages will sound different as well, and if you are unable to hear bowel sounds in a quadrant, it may be worth percussing over the area, searching for a blockage. Percussion is an inexact science and it takes a fair amount of practice to get used to. You should try to percuss both the chest and abdomen of every patient you assess, but this isn't always possible. However, when you can, this practice will serve both you and the patient well in determining the source of their abdominal pain.
Author
Lynda Lampert Visit
Lynda is a registered nurse with three years experience on a busy surgical floor in a city hospital. She graduated with an Associates degree in Nursing from Mercyhurst College Northeast in 2007 and lives in Erie, Pennsylvania in the United States. In her work, she took care of patients post operatively from open heart surgery, immediately post-operatively from gastric bypass, gastric banding surgery and post abdominal surgery. She also dealt with patient populations that experienced active chest pain, congestive heart failure, end stage renal disease, uncontrolled diabetes and a variety of other chronic, mental and surgical conditions.