Nutritional Management for People Living with Chronic Bowel Disease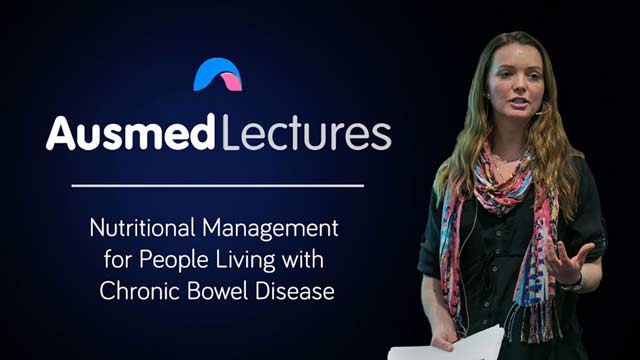 You will need to subscribe to Ausmed Education to have access to ALL of our extensive, quality online content.
Lecture Overview
Did you know that up to 80% of your nutrients are absorbed in the small intestine? So, what happens if you have your small intestine removed due to disease or cancer? Bowel disease and disorders can significantly impact on an individual's nutritional status, and this poses a challenge for the interdisciplinary team. See if you can identify some practical work-arounds to help those with bowel disease achieve complete nutrition.
Educators
Jamee Barugh
Jamee Barugh is a clinical dietitian at Alfred Health, Melbourne. Jamee graduated in 2007 with a Postgraduate Diploma in Dietetics from the University of Otago, New Zealand. She has worked in New Zealand, Brisbane, and in Melbourne at the Royal Melbourne Hospital, Western Health and St Vincent's Hospital where she worked for the past five-and-a-half years before recently accepting a position at Alfred Health. She specialises in upper gastrointestinal surgery and gastroenterology but has worked in other areas such as intensive care, oncology, renal, and head and neck surgery. She has also been involved in presenting the gastrointestinal and surgical lectures for students at La Trobe University since 2012.
Related Learning Hubs
Reviews