Sorry, this course has expired and is no longer available.
Computers, and the technology associated with them, are virtually indispensable in all aspects of our daily lives – healthcare being no exception.
As the population ages, grows and spreads out to remote areas, we must constantly look at ways of improving healthcare and preventing disease in the most cost-effective manner possible. Telehealth (or eHealth) offers us just that – new opportunities for communicating with patients and to serve people who are in poor health, live in remote areas and do not have adequate access to health care.
Definitions:
Telehealth can be described as a wide range of services coordinated, delivered and managed using telecommunication techniques and the exchange of electronic technologies.
Telemedicine is the term that describes diagnosis and treatment assisted by this technology.
As with anything new, there are both positive and negative aspects associated with telehealth. To begin, let's look at some of the applications and/or advantages of telehealth.
Telenursing
Telenursing is a sub-category of telehealth in which nurses use telecommunication devices to deliver care to patients who live alone, live in remote areas, or who may be unable to travel to doctor's appointments. Patients can be monitored remotely in order to better manage their chronic conditions. Telenursing allows for fewer nurses to deliver more care; a win-win situation for nurses and patients, and a measure that saves money across the board.
Chronic Disease Management
The increase in the use of telecommunication has generated the realisation that many patients can be managed effectively from a distance using electronic capabilities. Many chronic conditions have become the focus of management, including diabetes, hypertension, heart failure and chronic lung conditions. Monitoring these patients remotely saves money and also increases the likelihood that an exacerbation of the chronic disease can be recognised and treated before hospitalisation becomes necessary. Such measures increase the patient's confidence in managing their condition and improves their quality of life by keeping them in their homes.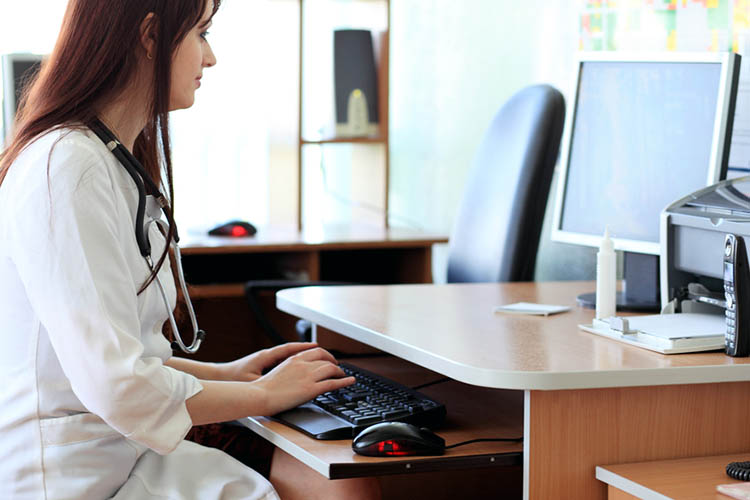 Collaboration Between Providers
One benefit of telehealth is the ability to allow professionals to consult each other regarding patient care without the necessity of travelling to see patients, saving time and money for both healthcare providers and patients. Technology allows professionals to send data, view data, speak to each other face-to-face, and collaborate together, to determine the best plan of care for the patient in question. Wound care is one area that has benefited from telehealth. Patient's wounds can be viewed remotely on camera, allowing a distant professional to make recommendations regarding treatment. Follow-up can be done on a consistent basis, allowing for quicker healing of chronic wounds and increased quality of care.
Safety
One of the major benefits of telehealth is that it promotes safety in healthcare. Patients are being discharged from the hospital earlier than ever before, with numerous medications, and often lacking the knowledge they need to care for their condition adequately. Telehealth allows these patients to return home earlier (which saves money) whilst still allowing them to be supported by a professional until they are well, or manage their condition with confidence. Post-operative patients benefit from support as they often have questions regarding what is 'normal', and these questions can be easily handled by nurses who can determine whether a patient is experiencing a complication or a normal consequence of their surgery. Telehealth provides a safety net for patients who may be struggling with managing their condition at home, preventing complications that could result in re-hospitalisation.
As with any new technology, there are a few kinks that need to be ironed out in order to make telehealth a viable proposition for everyone. Some of the areas that need further study and/or attention are acceptance, reimbursement and privacy/security.
Acceptance
Telehealth can be a hard pill to swallow for older professionals who are not used to computers and technology as a companion to knowledge and practice. Rather than feeling that they are being replaced by computers, these professionals should be encouraged to view telehealth and telecommunication as an adjunct to professional practice. Studies have shown that most patients are very accepting of telehealth, but some professionals have been slower to embrace this technology.
Reimbursement
Reimbursement may be one of the biggest stumbling blocks to a more widespread use of telehealth. Many providers have no avenue to reimburse for services provided through telehealth, and until these reimbursement issues are dealt with, telehealth will never be used to its fullest capacity.
Privacy and Security
Patient confidentiality and the security of private information must be safeguarded, regardless of the collection method used to extract information. Privacy and security is an important consideration in telehealth, and patients and professionals must both feel assured that information is collected and stored safely.
Telehealth is here to stay, and nurses can either embrace it or fight it, but in fighting the possibilities inherent in this technology they may be doing their patients a disservice. Telehealth offers many advantages, and the disadvantages will likely decrease in number as telehealth develops and reimbursement and privacy issues are addressed. Nurses of the future will leave school with a sound background and understanding of how telehealth can help them be more effective in caring for their patients, with an emphasis on disease prevention and management.
[show_more more="Show References" less="Hide References" align="center" color="#808080″]
Reference:
[/show_more]