The inclusion of paramedics into the National Registration and Accreditation Scheme (NRAS) for Health Practitioners acknowledges the growth and development of what was once a volunteer service that has since gained status as an occupation and is now recognised as a profession.
Prehospital care in Australia began with ambulance services that were developed to provide a safe, fast and efficient method of patient transport to hospital, rather than for the provision of medical care (Moritz 2018).
However, over time, and partly in response to an acute need for high-level prehospital care, the role of the stretcher-bearer developed into that of the ambulance driver and then the ambulance officer as these workers began to undertake on-the-road and vocational training (Moritz 2018).
Today, paramedics are highly skilled practitioners with advanced level tertiary education that enables them to both diagnose and treat patients. This distinguishes them from both volunteer and paid ambulance workers.
Whilst ambulance services have been governed through legislation in each jurisdiction for some years, prior to their entrance into the National Scheme, the governance structure for ambulance officers and paramedics was primarily through their contract of employment - which also continues to apply today.
This means that employed paramedics are already required to meet the terms of their contractual relationship with their employer, acting in accordance with their position description and any relevant policies, procedures and directives of the organisation as well as common law standards of reasonable care.
However, joining the National Scheme in 2018 has added yet another level of accountability.
What is the National Scheme?
A measure of national law reform regulating health practitioners in Australia was achieved with the introduction of The Health Practitioner Regulation National Law Act 2009 (QLD) (the National Law) on 1 July 2010. Although it is common to refer to the legislation that governs the scheme as the National Law, in effect it is more a reference to an intergovernmental agreement for a national approach to the regulation and accreditation of the health professions by the Council of Australian Governments (COAG), which was signed in 2008.
Following the passage of the Bill in Queensland in 2009, each state and territory enacted legislation in their own jurisdiction, providing passage for a consistent approach* across the country for the regulation of an initial 10 health professions. These were:
Medicine;
Nursing and Midwifery;
Dental;
Psychology;
Pharmacy;
Physiotherapy;
Chiropractic;
Osteopathy;
Podiatry; and
Optometry.
In 2012, First Nations health workers, medical radiation practitioners, Chinese medicine practitioners and occupational therapists joined the scheme. Further amendments to the National Law saw nursing and midwifery being recognised as two separate professions and the addition of paramedics to the scheme in 2018.
When paramedicine became a nationally recognised profession, the title 'paramedic' became a protected title, meaning only those registered with the Paramedicine Board are able to use it. In the first year of registration there were 17 323 registered paramedics and as of 20 June 2020 there are 19 838 paramedics registered with the National Board.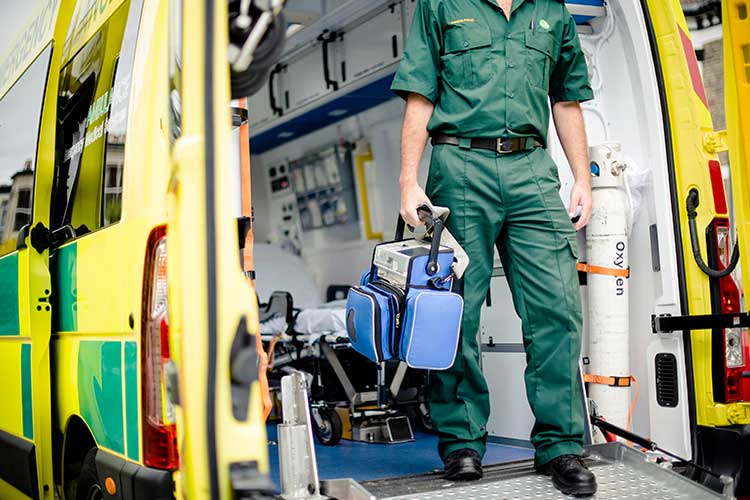 Who is the Regulator?
As previously mentioned, paramedics are regulated through their employment contract. They also continue to be regulated by common law, Commonwealth legislation, legislation from their own jurisdiction such as Health Services Acts (which have some governance over ambulance services), and civil, criminal and industrial law.
However, more profession-specific are the regulations set up under the National Law in the form of the work of the Paramedicine Board. The powers and functions of the National Board are prescribed by the National Law. In some cases, decision-making powers are delegated to national committees and state and territory boards, authorising them to carry out some of the Board's functions.
The primary role of the National Board is to ensure public protection by regulating the professions, in part through their powers to:
Determine requirements for registration;
Develop and approve professional codes, guidelines and standards;
Approve accredited courses of study leading to registration;
Approve registration of suitably qualified and competent practitioners; and
Manage notifications, complaints, investigations and disciplinary hearings.
Practising as a Paramedic in Australia
Those who wish to practice as a paramedic in Australia must have the appropriate education leading to a qualification and meet the registration standards developed by the Paramedicine Board. The five mandatory registration standards can be found on the AHPRA website and are listed below:
Continuing professional development;
Criminal history;
English language skills;
Professional indemnity insurance arrangements; and
Recency of practice.
(AHPRA 2020a)
Once registration has been approved and paramedics are on the national register, they must also comply with the codes, standards and guidelines developed by the Board, including the:
Code of conduct;
Social media policy;
Guidelines for mandatory notifications; and
Guidelines for advertising regulated health services.
(AHPRA 2020a)
Another important document for paramedics to be mindful of is the Professional Capabilities for Registered Paramedics that will come into effect from the 1 June 2021. This document describes the minimum level of knowledge, skills and professional attributes that the Board has determined necessary for safe and competent practice as a paramedic.
Paramedic Notifications to the National Paramedicine Board
An important component of public protection embedded in the National Law is the function of notifications of complaints and concerns regarding the health, conduct or performance of practitioners. Whilst students of the registered professions are registered with their respective National Boards, only notifications regarding their health are managed by the Board. Complaints about a student's conduct or performance are left to be dealt with by the education provider.
The following table illustrates the number and range of notifications made concerning paramedics in the first year of registration in 2018/2019:
There were 31 notifications lodged with AHPRA.

2 of these notifications were made about students.

101 registered paramedics (0.6%) had notifications made about them. These figures include data from the Health Professional Councils Authority (HPCA) in NSW and Office of the Health Ombudsman (OHO) in Queensland.
Of these notifications, 18 were resolved.

16.7% were referred to another body or kept by a health complaints entity (HCE).
There was no further action taken for 83.3%.

On 2 occasions, immediate action was taken.
There were 12 mandatory notifications received.

Of these, 8 were concerning professional standards.

Since 1 December, 2 paramedics were monitored for health, performance and/or conduct.
On 30 June, 21 cases were being monitored.

There were 2 cases being monitored for prohibited practitioners/students.
There were 19 cases being monitored for suitability/eligibility for registration.

There were 13 criminal offence complaints made and 7 closed.

There were 11 new matters related to title protection.
There was 1 related to practice protection.
There was 1 related to 'another' offence.

There were 0 matters decided by a tribunal.
There were 0 matters decided by a panel.
There were 0 decisions appealed.
(AHPRA 2020b)
Consistent with other professions, there are only a small percentage of practitioners who are notified to the National Board, with many of those notifications requiring no further action. A decision to take no further action is made when the Board - following consideration of the complaint - determines that the practitioner and/or their practice poses no threat to public safety.
Employers were the most frequent source of complaints made against paramedics, comprising 48.2% of the notifications, whilst patients and members of the public made 19.4% of complaints, as illustrated in the table below. Also consistent with notifications in other disciplines is the main area of concern being clinical care, making up 38.7% of all complaints.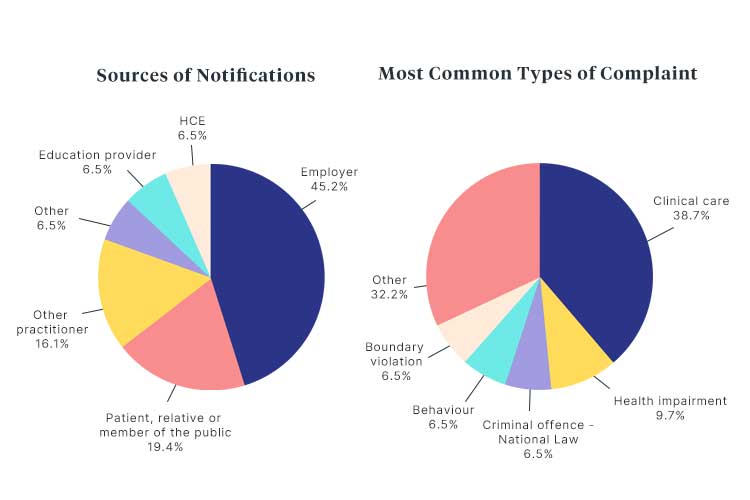 Conclusion
An essential part of registered paramedics' accountability is being familiar with their obligations under the National Law and practising in accordance with the codes, standards and policies of their National Board.
* Whilst this is a national approach aiming for consistency, there are some variations amongst the states such as how complaints against practitioners are managed.
NSW and Queensland are co-regulatory jurisdictions with an arrangement with AHPRA for managing notifications.
Additional Resources
References
Test Your Knowledge
(Subscribers Only)
Question 1 of 3
From December 2018, the following have been required to become registered practitioners under the National Law:
Start an Ausmed Subscription to unlock this feature!