This article has been archived and is no longer being actively maintained for accuracy.
United Airlines' shares plunged so fast this week, they could have had an entire episode of 'Air Crash Investigations' devoted just to them. Almost a billion dollars lost on the back of one of the worst PR and human disasters ever witnessed: http://www.bbc.co.uk/news/business-39562182.
Everything that could have been done badly was, and the entire wreck played out on TV and social media.
So Why Should Nurses and Health Professionals Care?
Simple. Because you could be next.
I have said for many years now that "every patient and family member is a mobile TV crew". Today's smartphones are owned by almost everyone, and in seconds your indiscretions or care lapses can be streaming live to Facebook, YouTube or any other media channel you care to mention. There is no hiding place.
When the goon squad dragged a hapless passenger, beaten and bloodied from a United plane, in the full glare of numerous filming smartphones, you could be forgiven for thinking that things could not get worse.
They did.
Enter Oscar Muniz, the United CEO with a 'press statement apology', so crass, so formulaic and so devoid of even a scintilla of sincerity that the passenger's handling looked skilled in comparison.
Composed surely by some Degas of drivel in the airline's 'damage limitation' PR Department http://newsroom.united.com/news-releases?item=124753. It read in full: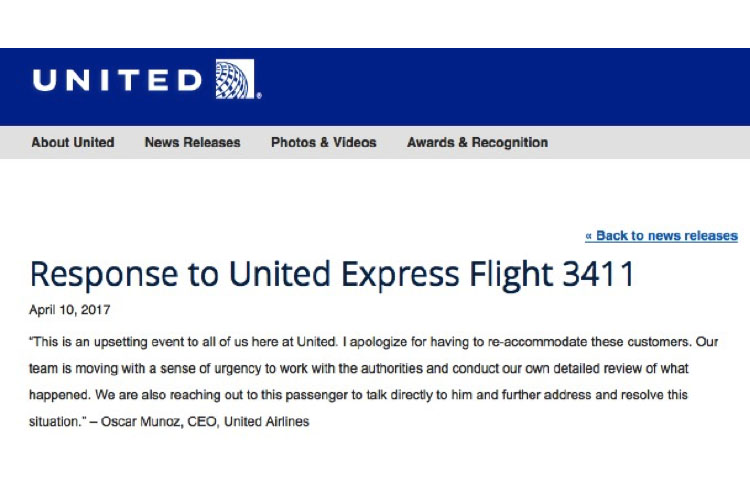 It is a masterclass in mush that follows a junior PR intern's playbook.
First, make yourself an equal 'victim' in the tragedy, hence "all of us here at United are hurting". Of course you are.
Second, the "we had no choice" gambit. We HAD to throw this guy off the plane as we needed the room. No mention of who overbooked in the first place.
Third, do an Orwellian flourish with language and make up your own euphemisms. The passengers weren't being thrown off or ejected from the flight, they were being "re-accommodated". Just as your latest 'rationalisation' of services isn't about cost-cutting. The entire "team" is "moving with a sense of urgency".
I'm just speechless at this point. But thank goodness there will be a "detailed review" to show us that the airline is 'doing something'.
To show that they are all heart, they are also "reaching out" to the passenger. Presumably not with the same sets of muscular arms that dragged him off the plane in the first place. And, should we doubt their sincerity and success, these strategies will "further address and resolve" the situation that has presumably already been partially addressed and resolved.
Dr Dao's lawyers may take a different view: http://thenewdaily.com.au/news/world/2017/04/13/united-passenger-legal-action/.
The Lessons for Nursing and Healthcare Could Not be More Clear.
You do NOT control your own narrative, no matter how badly you want to and no matter how many spin doctors you employ.
When you are nursing, you are nursing in public, not in private.
The genie of the ubiquitous smartphone is well and truly out of the bottle and will not be forced back in any time soon. When images or a story are 'out there' you will be lucky to have one chance to respond. If you do have that chance, say and do the right thing, first time – not on the third or fourth attempt as Munoz attempted to do.
Our health services do not have a glorious history in saying and doing the right thing, especially when something has gone badly wrong. 'Protect the organisation and staff' is still the default position far too often. Trust me, if your Executive Group or nurse leaders are regularly discussing 'reputation management', you are already in a dark, dark place.
The Patients Association report from 2014 called "Patients not Numbers" a harrowing but essential read for any nurse. Do, however read the five pages of 'responses from the organisations involved' to see just how self-servingly atrocious our 'complaints handing' can be: http://www.patients-association.org.uk/wp-content/uploads/2014/08/Patient-Stories-2009.pdf
Nurses can do infinitely better than this in our actions, words, and responses when things do go wrong. When you are consistently voted the most 'trustworthy profession' in the world, there is a concomitant responsibility. Let's keep earning it.