Simple Steps to Securing Your Facebook Privacy
Like 95% of Australians, you have a Facebook account that you use around 32 times a week (Sensis 2016).
There are some potential risks you need to consider when using Facebook – personal, and professional. One of the best precautions you can take is ensuring that your privacy settings are optimised to suit your individual needs.
Privacy settings are an essential tool in maintaining your professional reputation as a nurse online.
(Also read: Nursing, Privacy and the Risks of Social Media)
There are three key aspects of privacy that you need to address:
Your profile
Your posts
Your activity
How much you reveal on your profile is up to you and dependent on who you choose can see it. Go to your profile page (you can click on your name at the top of the page) and click the button that says 'Update Info'. This takes you to a page where you can enter as much, or as little, information about yourself as you want.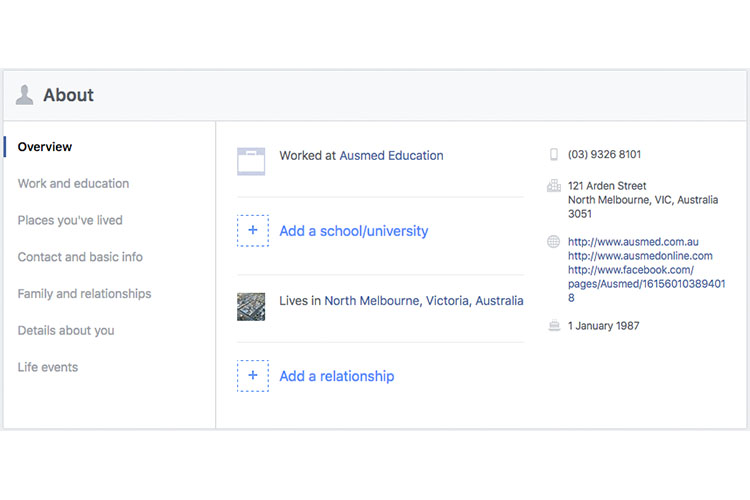 The key sections are:
Work and education
Places you've lived
Contact and basic info
Family and relationships
Details about you
Life events
You'll have entered some of this information when you signed up to Facebook – anything else you'll have manually added to complete your profile. If you hover your mouse on the top right corner of each section, you'll see an 'Options' dropdown menu appear. Here you can enter the relevant information and choose who gets to see it.
To the left of the 'Save Changes' button, you'll see a people icon and either Public, Friends or Friends of Friends – by clicking on the down arrow, you can select the option you prefer.
For maximum security, you want this to be set to 'Friends'. Go through each of the sections and edit the details, changing the privacy options as you go.
What you Post Speaks Volumes About you as a Person, and as a Nursing Professional
Even with your privacy settings on maximum, you should consider everything you post as public. This is because any of your friends can share your posts, or even screenshot the page.
Try to get into the habit of reviewing what you post before you hit that submit button. If a stranger was reading it – could it be misconstrued?
However, Facebook has a few standard options when it comes to visibility – Public, Friends, Friends except Acquaintances, and Custom.
Public – anyone can see your posts
Friends – all of your Facebook friends can see
Friends except Acquaintances – your friends except those you've changed to acquaintance
Custom – configured to suit you
When the potential risks of using Facebook include bullying, harassment, defamation and an impact on future career prospects (read Professional Boundaries in Nursing), it's important to keep your professional nursing career separate from your personal life.
One of the easiest ways to achieve this on Facebook, is by changing your work colleagues and peers from 'Friend' to 'Acquaintance'.
To do this, head to your 'Friends' page and next to each one, you'll find a box with a tick in it that says 'Friends'. Click on this and select 'Acquaintance' – make sure a tick appears next to this.
You can adjust who sees your posts in both the main privacy settings page, and the edit post box. At the top right corner, next to the question mark, you'll see a down arrow. This takes you into the full menu, where you can select 'Settings' and then 'Privacy'. Look at the 'Who can see my stuff?' section and you'll find that 'Who can see your future posts?' is set to 'Friends', or maybe even 'Public' – you need to change this to 'Friends except Acquaintances'.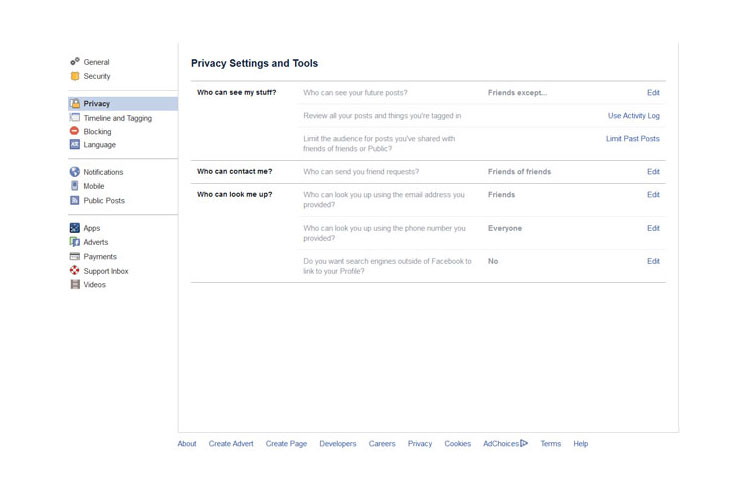 This means that the nursing contacts you've just changed to acquaintances cannot see everything you post to Facebook as standard. Chances are that you'll want to share some of your posts with them, and this is easily done.
When you create a new post, you'll find a box to the left of 'Post' that says 'Friends except Acquaintances'. Clicking on this brings up a menu where you can change it to 'Friends' – or even 'Public' if you want anyone to be able to see it. This can alter the default setting though, so make sure it's set back to 'Friends except Acquaintances' before your next post.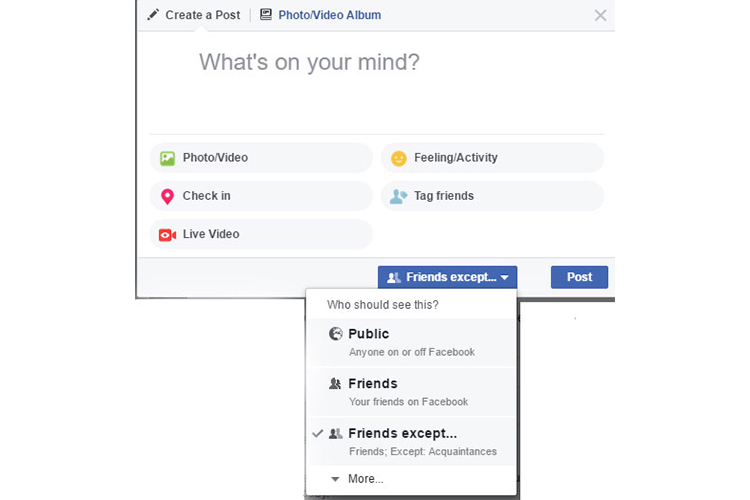 The easiest way of keeping your private and professional lives apart, is by having your default post setting as 'Friends except Acquaintances'.
Apps
If you've ever taken part in one of those quizzes or played a game like Farmville, you've used a Facebook app.
Although apps are a great part of Facebook and can keep you entertained for hours, they do carry a fair amount of risk. This is because apps access your account and often post to your wall without your knowledge.
Head back to the privacy page under settings, and click on the Apps section. You'll find a list of every app you've ever given permission to access your account. Go through and delete any that you don't use, or have no idea what they might be. Then, click on each one and choose 'Only me' next to the padlock symbol. This way, any posts made by the app will only be visible to you. You can always adjust the privacy on individual posts if you want your friends to see them.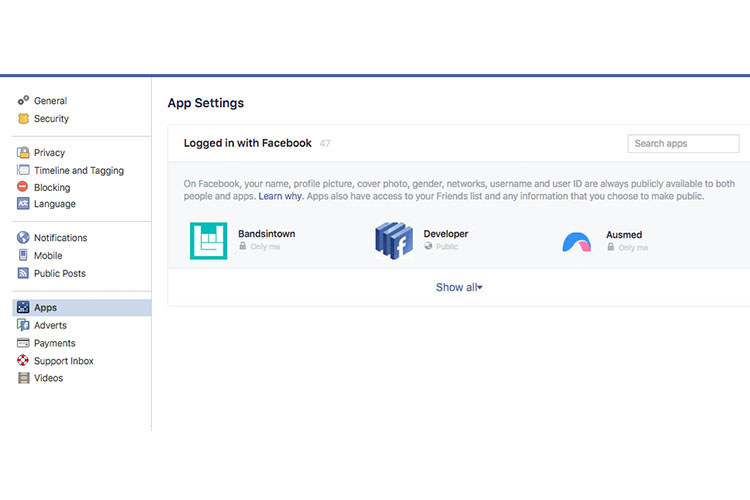 (There are some apps that are used to steal information from your profile, and can even take control of, or clone, your account. Be careful and selective with any apps you choose to use on Facebook.)
Let's Talk About Blocking
As a nurse you don't really want patients and their loved ones finding your Facebook account and attempting contact. Sometimes it is necessary to keep people completely away from your profile. The problem is, Facebook does make your basic information public and search engine accessible. So you can always be found.
Blocking is generally the course of action when someone tries to contact or cause trouble for you. This prevents them from seeing your profile and any activity you post on the timeline of others, such as comments on posts. You'll need to block messages too.
This is easily achieved by going to the offensive message and clicking on the symbol that looks like a cog at the top right corner. This opens a menu where you'll find 'Block Messages' as an option. If you have received abuse on Facebook, make sure you hit the report action and allow Facebook to take the relevant action.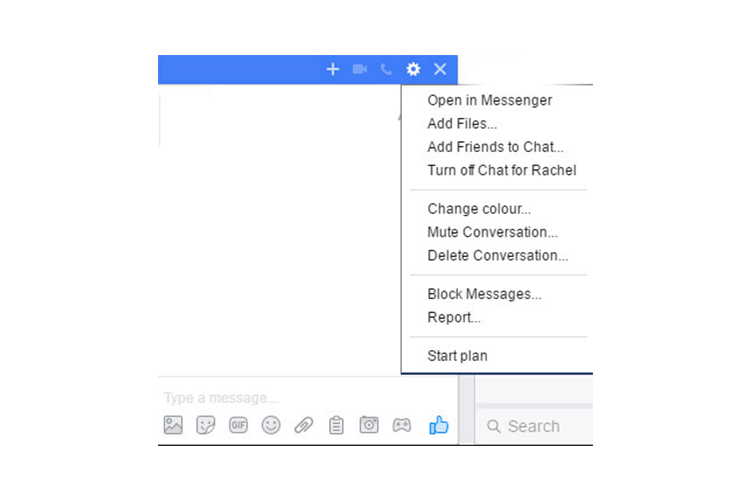 There's so much more to the privacy options that could be discussed, but by exploring the settings > privacy page and going through the options you'll be able to figure them out. They're fairly self-explanatory, and the general rule of thumb is to set things to 'friends' only, then adjust settings on a case-by-case basis as you post things.
It might seem like a chore having to go through all the different settings, menus and options to optimise your privacy on Facebook, but it is worth it. Safeguarding your privacy online is essential, not just for your personal life, but for your nursing career too.
[show_more more="Show References" less="Hide References" align="center" color="#808080″]
References
Sensis 2016, Sensis Social Media Report 2016: How Australian people and businesses are using social media, viewed 16 March 2017, https://www.sensis.com.au/asset/PDFdirectory/Sensis_Social_Media_Report_2016.PDF
[/show_more]