This article has been archived and is no longer being actively maintained for accuracy.
Today we are publishing a fresh design for Ausmed's new CPD Organiser. Not only does it look amazing, it's also much easier to use. In fact, statistically, you should find it 4 times easier to document your CPD with this improved interface.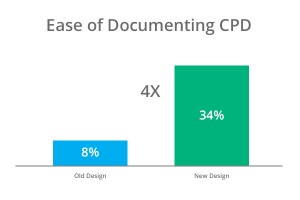 There are the three key improvements:
A 'one-click' button to document CPD instantly.
A cleaner layout for individual activities.
Better differentiation between documentation and planning.
1 – 'One-Click' CPD Documentation
You can now document your CPD from any page on the Ausmed website in 'one-click'. Simply click the blue 'Document CPD' button located in the menu bar and the CPD documentation flow will appear instantly.
2 – Cleaner Activity Summary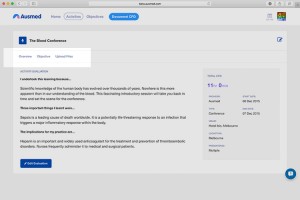 Your documentation is also much easier to read. Each activity can now be viewed in full-screen, providing you with all of the key information immediately. We have also moved the upload files and related learning goals sections into their own tabs, easily navigable from under the activity title.
3 – Plan and Document
Most of us think about CPD in three ways: planning, doing and documenting. First, we write our learning plan, next we engage in education, and finally we document what we learned. It makes sense to organise the Ausmed website like this too—our new design is a step in this direction.
What's Next?
Most importantly, this new design lays down the foundation for our next area of focus. In the coming weeks we will be significantly improving the documentation workflow. That is, the way you actually document your CPD online. We've already received many requests to include different activity types, such as mentoring and journaling, but are certainly keen to hear more. Please feel free to email your ideas to will@ausmed.com or call (03) 9326 8101 to chat over the phone.