This article has been archived and is no longer being actively maintained for accuracy.
It is safe to assume most healthcare professionals will encounter a situation outside of work in which the provision of medical assistance is necessary.
The decision to help is not a legal requirement, yet the sense of responsibility to provide skill and expertise is almost second nature.
If our knowledge continues to benefit others outside the workplace, shouldn't we be inclined to use it? Because it is not an obligation, it is down to morals and anxieties in judging how a person may react.
If lacking in confidence or skill, they may be less likely to respond. The fear of repercussions could also deter aid. When confronted by a critical injury where the outcome is likely to be poor, although it is not the fault of the tending practitioner, it may be challenging to avoid feeling partially responsible.
Despite these apprehensions, I have always felt compelled to help. Recently, I found myself confronted by this very situation.
---
As I stood on the platform in my usual morning haze waiting for the train to arrive, I was quickly snapped out of my daydream by an announcement over the loudspeaker:
"If there are any qualified doctors or nurses at the station, please could they make themselves known to a member of staff. There is an unwell passenger on a train approaching the station."
It was the announcement I have always dreaded.
I recalled the last time it had occurred, when I was in my second year of nursing school and on a transatlantic flight. At the time, I had minimal confidence and experience so I had not risen to assist—a registered practitioner was also on the flight. This time, it was my turn.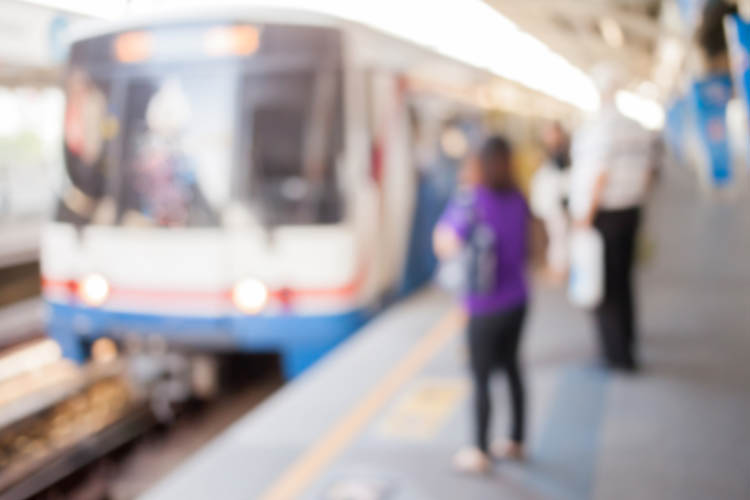 The passenger was slumped on the floor of the train, slowly regaining consciousness. With the assistance of the train staff, he was escorted to a bench on the platform.
I began with simple questions: can you tell me your name, do you know where you are, can you tell me what happened before you fainted, did you eat breakfast, do you have any past medical history, are you on any medication?
He had a history of hypertension and was routinely monitored by his doctor. Upon returning home from work the night before, he felt symptomatic and had administered an antihypertensive. He complained that his headache was still present. At this point in the assessment, a junior doctor stepped in. I relayed the acquired information and we concluded that he needed to attend the emergency department. An ambulance was called and I waited with the passenger until it arrived.
That very same day, in the afternoon, I went to the supermarket. While trawling through the aisles, I honed in on a shop-wide announcement. Could a first-aider please go to the cashiers desk.
Again, I felt myself drawn to the scene. What if the emergency was beyond the capability of a first-aider? If I neglected to go, I knew I would not be able to live with myself.
At the till, was a woman who appeared to be very tired and unable to stand. I informed the staff that I was a qualified nurse and requested some information about what was happening. The woman turned to me and said I'm having a seizure.
I began to probe further with questions. Can you tell me what type of seizures you have, have you taken your medication, is this the first one of the day?
This had been the second seizure of the day and she was feeling very fatigued. For quite a few years, she had been suffering from focal seizures exacerbated during times of stress. I advised that she should attend the emergency department for her own safety and explained that they may need to review the dosage of her anti-epileptic.
The gratitude received from both people, although pleasant, left me feeling slightly awkward.
Outside the hospital, medical assistance is viewed as an act of kindness. However, I could not help but feel it should not elicit that response.
In recalling memorable shifts, I found the times in which I had experienced the greatest job satisfaction were when I could help patients the most. In each of those out-of-work scenarios, I experienced the same sentiments. If I could assist in any way, why wouldn't I?
In speaking to colleagues and friends in a medical profession, these same inclinations appear to resonate throughout.
The possession of a strong sense of identity is a common trait in nursing. Our inability to disconnect our intrinsic drive contributes to the desire to help even outside the workplace.
A few of my friends have shared similar (and more critical) stories-one performed CPR in a restaurant, another in the street. Both of those people survived. If they had not been tended to, those outcomes could have been less favourable.
In my first year of qualifying, my friend and I tended to a young girl at a festival who had her drink spiked. Last year, at a train station, another friend and I assisted a girl having an epileptic seizure. These encounters are unpredictable yet we are seemingly prepared.
This leads me to wonder exactly what fosters our responses. Is it something we have trained ourselves to do, in caring for strangers? Or is it human nature?
The desire to aid and care provided my initial incentive for pursuing a career in nursing. From meeting many nurses throughout the past six years, it is clear to see they share similar sentiments. In possessing them, it also becomes more difficult to disconnect–whether it's providing family members with advice or helping a stranger.
Despite constant reminders to leave work at work, we cannot disengage this intrinsic response. Our ability to help others is a skill that defines us, even beyond professional identity. It is our composition and what yields compassion.
As highlighted by gratitude for our help—it is so unique and valued that we should be embracing our capability to share it with others.
Feature Image: 'Brockworth, UK – May 25 2015: An injured reveler receives treatent from a doctor' Editorial Credit 1000 Words / Shutterstock, Inc.