It can be argued that not all nurse leaders are managers, and not all nurse managers are leaders. However, it is likely that the most successful nurse managers are also excellent leaders.
A study by Vesterinan et al. (2013) explored nurse managers at hospitals in Finland. It found that the nurse managers considered the following forms of leadership to be 'very important' or 'important': coaching, visionary, affiliate and democratic. The study conveys that the job satisfaction of employees, as well as the department's success, are affected by the nurse manager's competence to reflect upon, comprehend and alter their leadership style to meet the contextual or situational needs.
Highlighted is the importance of nursing managers' (especially new managers') engagement in evidence-based theoretical learning in order to cope and gain competence. It could therefore be recommended that managers in nursing undertake postgraduate management and leadership studies.
Negussie and Demissie (2013) concluded in their study of nurse managers that nurses' job satisfaction was improved by the implementation of transformational leadership styles by nurse managers. This was as opposed to nurse managers implementing a more transactional leadership style. This aligns with the finding from Vesterinan et al. (2013) that nurse managers respect visionary leadership styles.
Environment and Wellbeing
These suggestions can be reinforced by evidence such as the literature review by Twigg and McCullough (2013), which concludes that quality client care and nursing retention can be increased by establishing positive workplace environments.
These environments consist of (Twigg & McCullough 2013):
Empowerment
Professional development
Leadership support
Autonomy
Appropriate staffing
Effective skills mix
Shared governance
Positive and professional relationships between health professionals/teams.
It can be understood that coaching and leadership support needs to involve cognitive decision-making. Decision-making is found to be adversely affected by ongoing stress. Chronic stress also negatively impacts the wellbeing of nurse managers. Clearly, these outcomes have the potential to influence individuals, clients, and the organisation (Shirey et al. 2012).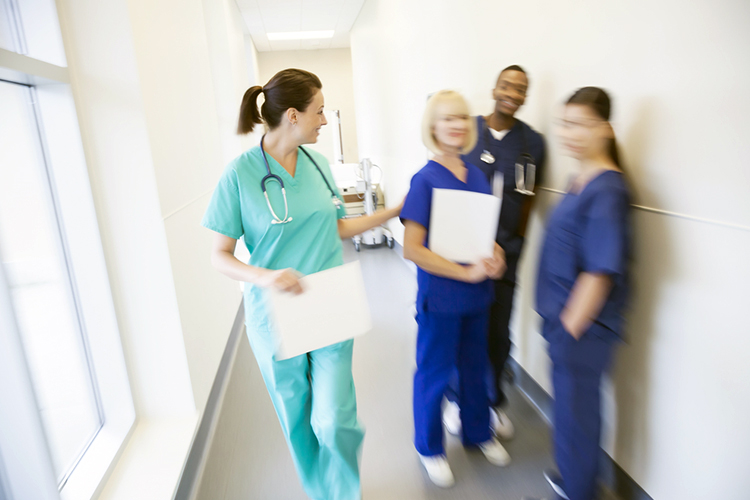 Job Satisfaction
Job satisfaction is believed to be dependent on the internal enjoyment of the work that stems from 'recognition, advancement, and responsibility'. Moreover, job satisfaction also comes from external enjoyment of the job that results from aspects such as wage/salary, 'supervision and working conditions' (Worrell 2004, cited in Vesterinan et al. 2013).
Warshawsky and Havens (2014) found in their study of US acute care hospital nurse managers that the majority (70%) of participants were satisfied with their nurse management jobs and that up to 68% of participants would likely recommend this role.
However, it was interesting to note that most (72%) nurse managers were likely to leave their job within five years. This was due to 'burnout, career change, retirement, and promotion' (Warshawsky & Havens 2014).
Warshawsky and Haven's research recommends that the workload of nurse managers is reviewed and that nursing leaders access career counselling to construct succession plans.
Strategic Succession Planning
Titzer, Shirey and Hauck (2014) explain that without appropriate and evidence-based action, such as strategic workforce planning, future nursing leadership needs will not be met and there may be a nurse manager shortage.
Like Warshawsky and Havens (2014), Titzer et al. (2014) support the need for succession planning. In Titzer et al.'s (2014) quasi-experimental mixed-methods study, they found that participants of a leadership program improved their leadership and management competence greatly. Specifically, 'One year after program completion, 100% of the program participants have been retained at the organisation and 73% had transitioned to leadership roles.' (Titzer et al. 2014). Thus, Titzer et al. (2014) conclude that succession planning is a crucial strategy for transforming quality staff into leaders, and also maintaining a 'pipeline' of future nurse leaders.
Warshawksy et al. (2013) raise an important practice point that high nurse manager turnover is associated with a higher incidence of pressure ulcers. Again, Warshawsky et al. (2013) support Warshawsky and Havens (2014) and Titzer et al. (2014) in the claim that effective succession planning is necessary for the nursing industry. Strategic planning and 'stable nursing management' is evidently needed to promote quality client care (Warshawsky et al. 2013).
What Should a Succession Plan Look Like?
Effective succession planning should involve training high quality nursing staff members in theoretical transformational leadership. This may mean providing scholarships to high-performing positive workplace role models to study postgraduate healthcare leadership and management degrees. This could also perhaps entail utilising existing effective transformational leaders within the workplace to coach emerging workplace leaders or quality staff nurses. This could help to generate a 'pipeline' of future nursing leaders for the workplace/organisation to promote stable nursing management. Hence, adverse client outcomes could be prevented, and the reinforcement of transformational leadership culture in the workplace may encourage job satisfaction amongst employees.
References