At Ausmed, our mission is to inspire and enable healthcare providers to improve their care through effective education. A core part of doing so is by providing organisations with a vast range of high quality content curated by the Ausmed Education Learning Centre (AELC) as well as our Third Party Content Providers.
However, we understand that no matter how broad any one provider's content library may be, organisations have a need for content that is specifically customised to their unique training and compliance requirements. Evidence of this can be seen at McLean Care, where this year alone they have generated almost 1000 learning records from in-house courses.
Introducing the Course Builder
There will always be a need for education that is tailored to your specific and unique context of practice. It's for this reason we decided to develop our new self-service authoring tool - the Course Builder, which allows you to create effective and engaging courses that go beyond the constraints of slide-based presentations.
The Course Builder replaces the need to have external authoring software sitting alongside your learning management environment, making it faster to stitch together resources like videos, articles, files or weblinks and giving you the option to attach assessments to these to determine if learning outcomes have been met.
Since releasing the Course Builder to all Organisations just last week, we have already seen so many diverse and impactful use cases arise, beyond the tailoring of training and education for learners. This includes the delivery of policies and procedures, welcome handbooks and induction guides for new starters, fire evacuation training, and even stand alone competency assessments that are built to accompany practical activities.
"Having the ability to tailor courses and assessments specific to our organisation's needs enables us to be flexible with our Learning and Development approach. Building on the impressive Ausmed Resource Library, we can customise and strengthen our Training Plans to also include modules developed in-house."
- McLean Care
Assessments
Assessments are a crucial component of the learning process, allowing both you (the assessor) and the learner to determine whether or not key concepts have been grasped. In saying this, there is no one way that works best for each and every organisation.
To honor this, we have incorporated some flexibility into the way in which assessments can be built by allowing you to create graded or ungraded assessments. You can also easily set a pass mark, number of attempts allowed, and even a recovery point whereby if the pass mark hasn't been met, you can elect which part of the unit the learner must return to before retaking the assessment. Additionally, you can diversify your assessments with four different question types, including:
Multiple Choice
Multiple Response
Short Answer
True or False.
Course Design Made Easy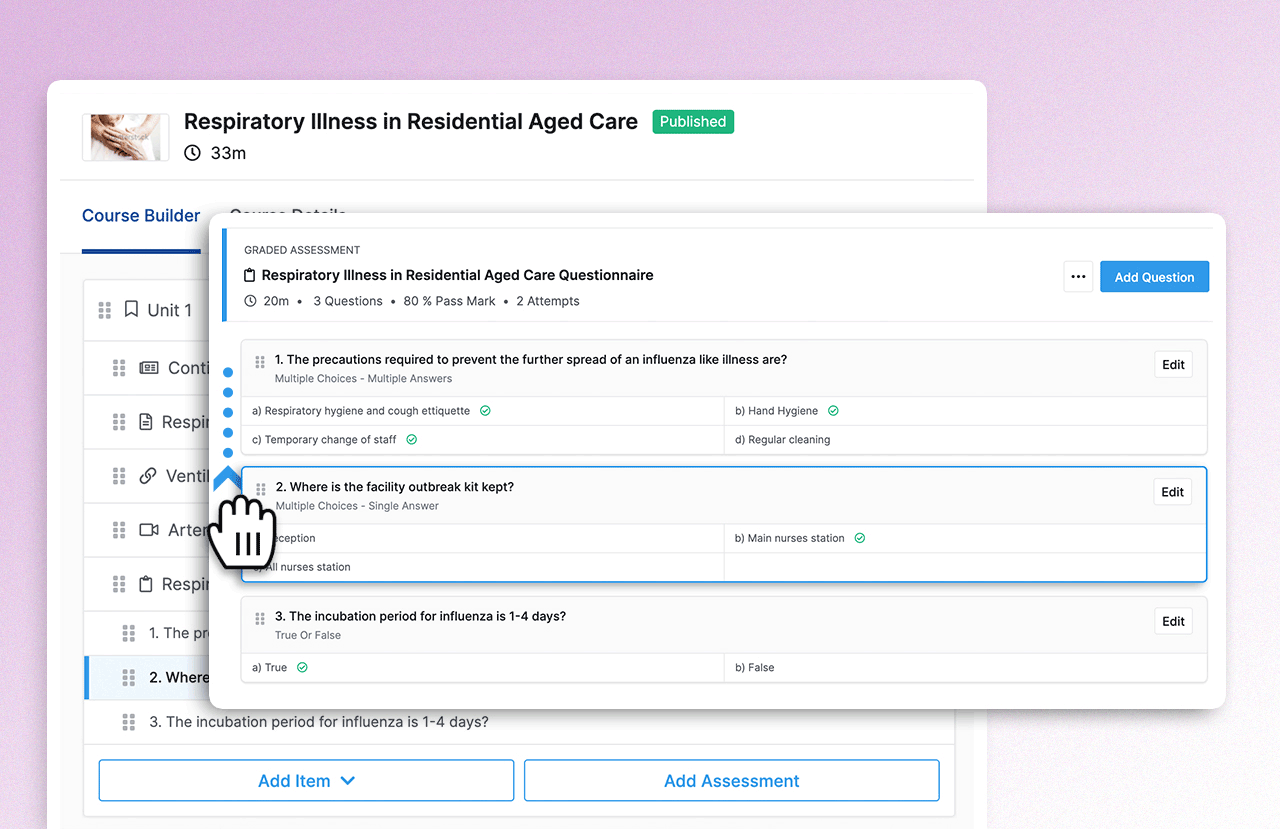 Restructuring and editing your course shouldn't be a tricky, time consuming process. Our simple user interface lets you have complete visibility over course structure while you build, allowing you to expand and collapse units or assessments within the left side panel. Not happy with the structure? Simply drag to reorder units, resources within units or questions in assessments, giving you full flexibility and control over the order of the course.
Links to Standards
Not only is all of Ausmed's content mapped to the Standards, but any course you create with the Course Builder can be mapped to the Standards of your choosing as well.
Imagine this - you've been asked to report on all training that has been done in accordance with Standard 3: Personal Care and Clinical Care under the Aged Care Safety and Quality Standards. This may be due to an organisation-wide audit, a board meeting or a performance appraisal for a specific individual.
In Ausmed's Standards Report, you can surface this information with a few clicks - including both Ausmed content, and any custom courses you have made. This means not only is the data easy to surface, and updated in live time, but it's also accurate - reflecting all relevant learning that has taken place.
Save Time Reproducing Courses for Other Cohorts
We know you won't always need to create a new course from scratch. Sometimes, all that's needed is a slight tweak here or there to add relevancy to a particular facility or job role. With the Course Builder, you have the option to 'Make a Copy' of any custom-built course and edit the details, resulting in a brand new course relevant to the learner's scope of practice. It's built in minutes - not hours or days.
What's Next?
Prior to publishing your course, you have the option to preview what it looks like from the viewpoint of the learner. All courses you build will seamlessly integrate with the My Organisation page within their Ausmed account, resulting in a learning experience that is familiar to your learners.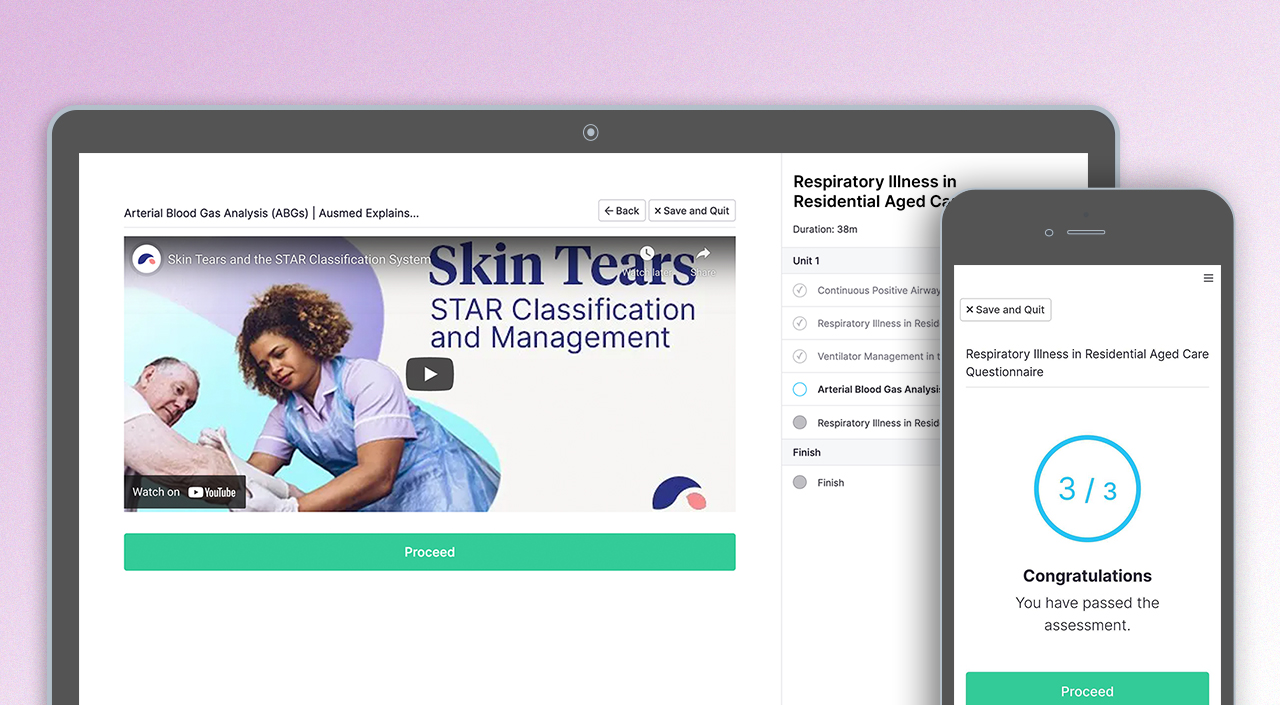 Functionally, your courses act the same as any other course within your learning environment. Therefore, you can add your course to a training plan, assign it to learners, include it in reporting and evaluate the results of any assessments in your course to determine how well learners have grasped your key learning outcomes.
If you have any questions, feedback or want to get started building your own courses using the Course Builder, you can book in a time to speak to us here.