What is Mandatory Training?
In its simplest form, mandatory training in the health and aged care sector refers to compulsory training (online or in-person) that is required by an organisation to be undertaken by anyone working in that place. The workplace prescribes the mandatory training to be conducted, which may differ according to the particular function of staff groups, disciplines and roles. It is designed to enable employees to undertake their role safely and effectively (Queensland Health 2019).
Mandatory training offers just one means to minimise risk to an organisation's workforce and supports organisations to provide person-centred quality care and service. As described by NSW Health (2020), mandatory training 'keeps the workforce safe'.
What Should Mandatory Training Focus on?
Mandatory training should focus on the provision of quality care and risk avoidance, aligning with:
Specific laws and compliance, e.g.

Health Acts
Aged Care Acts
Work Health and Safety Legislation

National Standards relevant to the organisation, e.g. NSQHS Standards, Aged Care Quality Standards, NDIS Practice Standards
An organisation's clinical governance framework
An organisation's internal policies and procedures
Industry expectations
How do We Ensure Mandatory Training Promotes Quality of Care?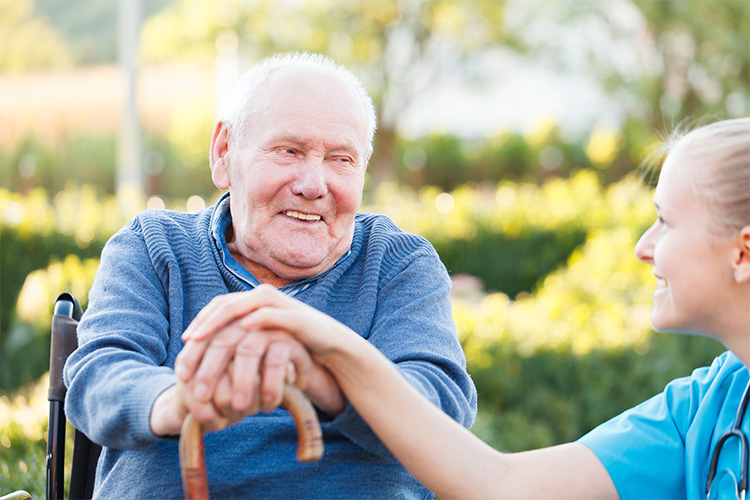 If the goal of mandatory training is to avoid risk, whilst also promoting quality care and service, what can we do to ensure that we achieve these outcomes in our organisations?
As Donna Wright (2018) states:
"The integrity, design and development of mandatory training activities should be assessed prior to learning being assigned in order to maximise engagement with the content, promote staff compliance and contribute towards the desired outcome in mind."
(Creative Health Management 2018)
If your goal is for mandatory training to result in increased quality of care, then the integrity of the training being delivered should be of high quality.
Is Mandatory Training the Same as CPD?
To put it simply - maybe.
Mandatory training is different to CPD requirements for registered health professionals that fall under the Health Practitioner Regulation National Law in force in each state and territory (AHPRA 2021).
The CPD standard for registration sets out the prescribed minimum amount of CPD that a practitioner must complete in order to meet the standard for registration and remain registered. (Paramedicine Board of Australia 2018).
Individual registered health practitioners may choose to reflect and document completed mandatory training activities as part of their ongoing CPD requirements… if the activity meets a relevant learning need (Paramedicine Board of Australia 2018). Therefore, If the health professional has an identified learning need that aligns with the mandatory training, it can be documented. But it must first relate to an identified need.
Are There Repercussions for not Completing Mandatory Training?
Without mandatory training, is the provision of quality care and risk avoidance going to occur? Maybe, but it also may not.
You can still have quality care without completing mandatory training. However, by neglecting to do so, it puts the core purpose of mandatory training in jeopardy.
If we think back to the goal of mandatory training, it is to align staff with relevant laws that are external to an organisation, and policies and procedures that are internal and relevant to an organisation.
Within the Queensland Health Policy (2021) it is stated that 'The employee is not to perform those duties until their training is completed'. For example, You may have pressure on staffing if you can't allocate particular beds or staff to a certain person because they're not competent in managing a particular resident/situation. Whereas, according to their HR records, they have been hired under the provision that they are.
When Should Mandatory Training Occur?
This will vary. Organisations may choose to conduct learning in "crammed" environment - requiring learners to complete a large amount of training over a very short period of time. We know that this approach is not aligned with or conducive to our mandatory training goals of avoiding risk, whilst also promoting quality care and service.
Mandatory training should occur in response to the needs of an organisation. Therefore, the frequency of training will be determined by various factors such as:
Changes to legislation
Changes to internal policies and procedures
New compliance requirements set by regulatory bodies
Audits, onsite assessments and review audits
Performance against relevant Standards
Internal adverse events, incidents and near-misses
The implementation of new products and equipment.
At Ausmed, we recommend staggering your mandatory training across a 12 month period, so that only one or two requirements are due for learners each month. When training is delivered in this way, it can enable:
Better management of outstanding compliance requirements
More learners to meet their compliance deadlines, more often
A more manageable, enjoyable learning experience for staff
Better retention and application of knowledge, and hopefully, the provision of better patient care'
Organisations to achieve a state of continuous, rolling compliance.
Your staggered training plan may be made up of annual requirements, practical activities or regular refresher training items that repeat every month, quarter, or bi-annually.
Is All Training Mandatory?
No, not all workplace education needs to be mandatory. In fact, there are some unintended consequences when it comes to making everything mandatory. There are many other types of training that can be undertaken, which may not fall into the category of mandatory.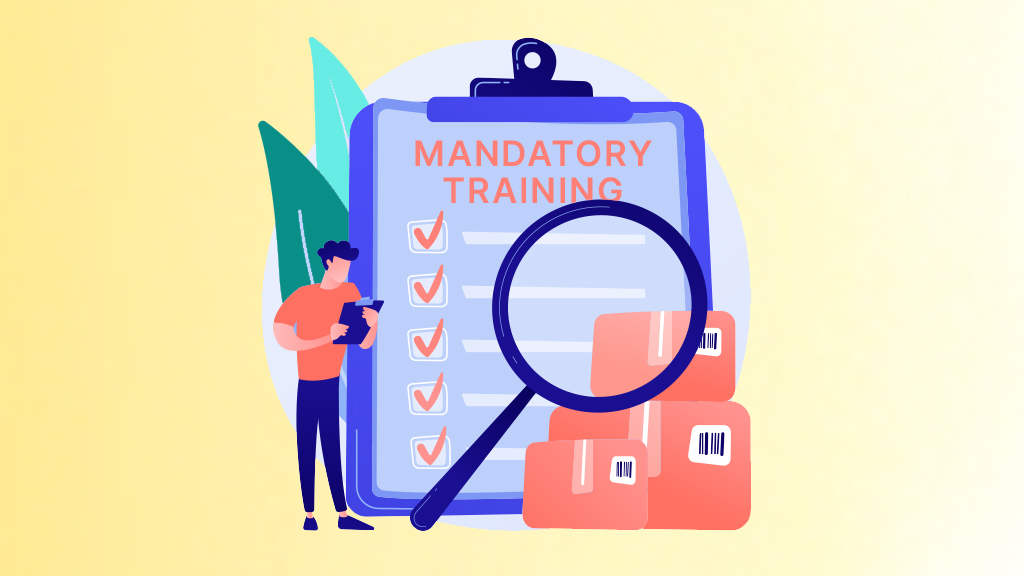 'Just in time' education: Education that occurs in response to an incident to rapidly address workplace safety and/or the wellbeing of staff and consumers (Creative Health Management 2018). This type of education is likely not going to be relevant to all staff in the organisation. Should it be assigned in bulk? Probably not.
Planned and one off: Induction or orientation training required before or within a certain period of an employee commencing employment (Queensland Health 2019). This type of training might be mandatory, but it should be tailored to a specific job role, function or facility, resulting in different induction or orientation plans associated with different teams or job roles.
Recurring training: Ongoing manual handling or workplace health and safety training required to be completed annually (Queensland Health 2019). This type of training is probably mandatory, but even if it's delivered to everyone, a consideration should be made to tailor that specific training to a specific job role, function or facility.
Other training that is not necessarily mandatory includes:
Continuing professional development*
Career development
Inquisitive learning
Microlearning
Competency-based / Outcome-based learning.
*See 'Is Mandatory Training the same as CPD?' above for more details.
How to Deliver High Quality Mandatory Training on an Ongoing Basis
Continuous improvement within any organisation stems from having a deliberate and thoughtful approach underpinning the development of employee training programs.
In order to deliver high quality mandatory training, it is critical that the right educational method is chosen, along with the right educational situation. You must also ensure the training is delivered to the right target audience. This can be made easier by incorporating the following steps into the process when developing a mandatory training program:
Planning for urgent learning needs to be addressed
Rapidly adjusting training plans according to need
Encouraging regular reviews of Mandatory Training plans (topic/type, job role and frequency)
Encouraging assessment of the integrity, design and quality of Mandatory Training activities prior to learning being assigned.
Why Does the Quality of Education Matter?
The purpose of education is not only to promote staff compliance. An activity with a quality design and integrity is also going to promote better engagement and better achievement of the desired learning. So, especially when it's mandatory, the quality of education is critical.
Quality education is designed to:
Maximise engagement with credible, interesting, engaging content
Create a culture of learning
Reduce resource wastage ($)
Contribute towards the desired learning outcomes
Includes a purposeful evaluation to measure the effectiveness of the educational activity.
Does Completion of Mandatory Training Mean Competence?
Not necessarily.
"Competency is a level of skill or ability that you define where people need to be. Education may be a vehicle to help you get to where you need to be but it is not the end goal." - Donna Wright (2018)
When learning activities are deliberately designed as competency-based education, they are more likely to result in competence (Creative Health Management 2018).
Competency-based training must be individualised to an identified gap in knowledge, skill, practice, confidence or competence, and designed to achieve a specific, desired outcome where there are verification methods and evidence that the desired outcome attached to the activity has been assessed and occurs.
Does Completing Mandatory Training Mean You Will Pass an Audit?
No. Education alone does not mean you will pass an audit. Education does not solve every problem. Education is not always the answer (Queensland Health 2019). Education, including mandatory training, is just one pillar of an organisation's overall governance. If the education is not needed, or it was designed to solve the wrong gap in policy and procedure or resourcing and staffing, it will not fix the problem.
Strong leadership, clinical excellence, a positive learning culture, patient safety systems, high-performance teams and the care environment are all required to provide high quality, safe and effective care. Mandatory training alone is not going to ensure those desired outcomes occur (Australian Commission on Safety and Quality in Health Care 2017).
References